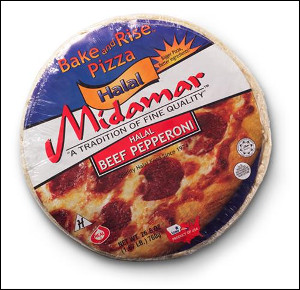 Who knew that the Islamic Religious Police had an office at Main Justice? You might justifiably wonder that reading this indictment in which an Iowa man, William B. Aossey Jr., is accused of violating federal law by exporting meat from a slaughterhouse not certified as halal to Indonesia and Malaysia, both Muslim countries where the importation of non-Halal meat is forbidden by law. Aossey is the owner of Midamar Corporation, a leading producer and exporter of Halal meat and food products.
Actually, the prosecutors get to this odd result by a familiar route, namely accusing the defendant of making false statements to the federal government in connection with the export. We saw this in the warm chicken case which we reported on back in 2012. In order to encourage U.S. exports, the U.S. Department of Agriculture agrees to certify to foreign governments that agricultural products exported from the United States comply with the importing country's requirements. As part of that process, the exporter fills out a USDA Food Safety Inspection Service Form 9060-6, which is an application for the required export certificate. In that application, just above the signature line, is the following sentence:
Under penalty of law, I certify that the product covered by this application for export meets the inspection requirements for the country of destination.
If the importing country requires that the animal be slaughtered by a Muslim in a particular manner while invoking the name of the deity and that has not happened, then the statement on the Form 9060-6 is false and a violation of 21 U.S.C. § 611(b)(5), which prohibits false statements in applications for export certificates. Violation of that provision is made criminal by 21 U.S.C. § 676.  The indictment alleges that the defendant's company represented in the export certificate that the meat came from a Halal-certified slaughterhouse when in fact it came from another, non-Halal slaughterhouse.
It is not quite clear why the charge was under 21 U.S.C.  § 611(b)(5), which provides for a maximum jail term of three years, rather than under 18 U.S.C. § 1001, which penalizes false statements to federal agencies and provides for a maximum jail term of five years. Perhaps it was because the defendant was recently appointed by the U.S. Secretary of Commerce to the position of Vice Chair of the Iowa District Export Council, a fact oddly omitted from the indictment. I suppose that's worth cutting the guy just a little slack.
UPDATE: We received the following communication from Midamar:
In your article "U.S. Indicts Exporter for Failing to Meet Halal Meat Standards" in your Export Law Blog you state "You might justifiably wonder that reading this indictment in which an Iowa man, William B. Aossey Jr., is accused of violating federal law by exporting non-Halal meat to Indonesia and Malaysia…" Midamar is a company that has built its brand on halal integrity and would never falsely label any product as Halal if it was not Halal. Bill Aossey is not accused of exporting non halal meat to SE Asian countries in violation of federal law. Please see Midamar Statement http://www.midamar.com/News/20141025/49/Midamar-Statement-on-Indictment-of-Founder-Bill-Aossey.aspx and also see: http://youtu.be/sAT7LJKEYsU for some history on Bill Aossey and Midamar.
The indictment alleges that Aossey certified that meat came from a slaughterhouse that was Halal-certified when in fact, it is alleged, it came from another slaughterhouse that was not Halal-certified. The point being made by Midamar's statement above appears to be that the meat was still Halal even if it came from a slaughterhouse that was not Halal-certified. We have slightly amended the sentence in question to read that Mr. Aossey is accused of "of violating federal law by exporting meat from a slaughterhouse not certified as halal to Indonesia and Malaysia."