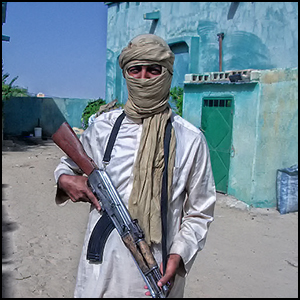 Last week the State Department and the Office of Foreign Assets Control ("OFAC") designated under Executive Order 13224, Musa Abu Dawud, one of the leaders of Al-Qaeda in the Islamic Maghreb, as a Specially Designated Global Terrorist. E.O. 13224 requires actions by both State and OFAC for such a designation.
This designation led to a story by the American Media Institute headlined "Dead terrorist listed as active threat." Talk about click bait! Indeed, upon reading the headline, the entire editorial staff of Buzz Feed resigned knowing that they could never equal, much less surpass, such a glorious example of click bait, not even today's soon-to-be-legendary click bait listicle "22 Cartoon Guys Who Sexually Awakened You."
Problem is, notwithstanding whether the story on cartoon guys has a kernel of truth, the accuracy of "Dead terrorist listed as active threat" was even more dubious. So the AMI story silently disappeared. (The link to the story in the previous paragraph comes from the Google cache, illustrating that old web posts don't even die or fade away but live forever, rather like, it would seem, Musa Abu Dawud.)
There was a tweet (of all things!) from TracTerrorism.org that Musa Abu Dawud was killed in an Algerian military operation in March that AMI apparently used as a source, but I could not find any other corroboration of Musa Abu Dawud's alleged death. Apparently, neither could the grown-ups at AMI who finally pulled the story. I tend to think that if both State and OFAC think this guy is alive that he probably is.
Photo Credit: AQIM Touareg Brigade By Magharebia [CC BY 2.0 (http://creativecommons.org/licenses/by/2.0)], via Wikimedia Commons http://bit.ly/1T78Y7E [cropped and processed]