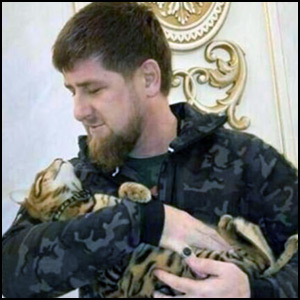 ABOVE: Ramzan Kadyrov 
In an article in Foreign Policy titled "Why Is This Man Still on Twitter?" Emily Tamkin and Elias Groll get all confused about sanctions. And they are aided and abetted in this confusion by Peter Harrell from the Center for New American Security (whatever that is). The resulting mess is why I wonder, at least partly in jest, why Foreign Policy is still on the Internet.
The article attempts to answer the question I posed in this post in early January: why is Putin crony and Chechin strongman Ramzan Kadyrov blocked by some social media sites while Bashar Al-Assad and Nicolás Maduro, both of whom are also SDNs, are not? Tamkin and Groll quote Harrell's supposed answer to this question:
Peter Harrell … explains that the difference might come down to something called the Berman Amendment.

The Berman Amendment, Harrell says, is an amendment to the International Emergency Economic Powers Act, or IEEPA, that states nothing in that law can be used to constrain publication.

"If you have a sanctions designation based on IEEPA, it's very clear that that cannot be used to prohibit publication activities," Harrell says.

…

The Berman Amendment applies only to IEEPA sanctions and not other sanctions programs, such as the separate legal provisions outlining the Global Magnitsky Act. "There is a legal argument that because Kadyrov was sanctioned under Magnitsky, rather than under IEEPA sanctions, the Berman Amendment does not apply," Harrell says, meaning the U.S. government could conceivably sue Facebook to force Kadyrov's removal, a risk the company may have not wanted to take.
Let's leave aside for the moment Heller's bizarre summary of the Berman Amendment, which deals with import and export of informational materials rather than "publication activities." Instead, I have to point out, as I did in my earlier post, that Section 584.206(b) of the Magnitsky Sanctions Regulations clearly states:
The prohibitions contained in this part do not apply to the importation from any country and the exportation to any country of any information or informational materials, as defined in §584.304, whether commercial or otherwise, regardless of format or medium of transmission
So, okay, I guess Heller, Tamkin and Groll couldn't be bothered to actually read the regulations that they were trying to rely on.  Reading regulations, after all, is hard.
But let's also look at Heller's inaccurate statement that the Berman Amendment would not apply to sanctions adopted under the Magnitsky Act rather than IEEPA. Once again, Heller, Tamkin and Groll could not be bothered to read the Magnitsky Act, which, if they had, would have revealed the bankruptcy of their argument. Section 406(a)(1) of the Act provides the authority under which the President may block and add to the SDN list human rights violators in Russia:
The President shall exercise all powers granted by the International Emergency Economic Powers Act (50 U.S.C. 1701 et seq.) … to the extent necessary to freeze and prohibit all transactions in all property and interests in property of a person who is on the list required by section 404(a) of this Act if such property and interests in property are in the United States, come within the United States, or are or come within the possession or control of a United States person.
By explicitly linking Magnitsky Act sanctions to those "powers granted by" IEEPA, it certainly means that the limitations on those powers, like the Berman Amendment, would apply to Magnitsky Act sanctions. That, of course, is why OFAC adopted the section of the Magnitsky Sanctions Regulations cited above that carves out the import and export of informational materials.
So both questions remain unanswered.