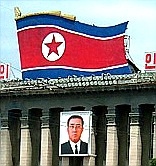 A UN report leaked to the Associated Press revealed that North Korea has been exporting nuclear and missile technology and items to Iran, Syria and Burma. According to that report, the Norks are using shell companies, intermediaries and criminal networks to evade sanctions imposed by the UN on the rogue state.
[The report] said the list of eight entities and five individuals currently subject to an asset freeze and travel ban seriously understates those known to be engaged in banned activities and called for additional names to be added. It noted that North Korea moved quickly to have other companies take over activities of the eight banned entities.
Given the revelations contained in this report and the recent torpedoing of the South Korean naval vessel by the Norks makes it likely that we will see new and broader sanctions against North Korea in the very near future. And given the ease with which the Norks have evaded targeted sanctions, any new sanctions might well include comprehensive import and export bans.
[Geek Note: This post was written on, and published with, my iPad. I had to add a photo editing and an FTP app, but with those in place the process was a breeze. And, yes, this can be seen as simply an effort to justify my acquisition of this fun little gadget.]