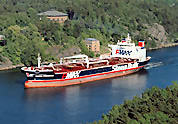 Yesterday the Office of Foreign Assets Control ("OFAC") released its civil penalties report for January. Among the settlements announced was one under which Stena Bulk LLC, the Houston-based subsidiary of the Swedish oil tanker company, agreed to pay OFAC $426,486 for "providing transportation related services for the transportation of oil to Sudan and the exportation of Sudanese-origin oil without an OFAC license." Stena Bulk voluntarily disclosed the matter to OFAC.
OFAC's policy of providing as little information as possible with respect to settlements leaves some nagging questions unanswered here. Stena Bulk, the parent company in Sweden, is not a U.S. person as defined by the Sudan regulations and couldn't violate the sanctions. Stena's U.S. subsidiary in New York and and Stena Bulk LLC, its subsidiary in Houston, aren't liable for the parent company's dealings with Sudan unless they participated in some way in the oil shipment transactions. It certainly would be useful for OFAC to reveal what actions by the subsidiaries were sufficient to lead to a fine of this magnitude, although in this case I can posit a reasonable speculation.
Stena Bulk's involvement in oil shipments to Sudan arises from the unique nature of Stena Bulk's fleet, most of the ships in which are designed to maximize oil cargo capacity and yet maintain low drafts necessary for ports, harbors and canals, such as the Suez Canal, with draft limitations. Stena Bulk has a number of Suezmax ships in its fleet. These ships can traverse the shallow Suez Canal to reach the Red Sea, where Sudan is located, from the Mediterranean. These ships should also be able to make calls at the Port of Sudan, where berths in the harbor range from 9 to 13 meters.
Interestingly, all of the company's Suezmax fleet is managed from Stena Bulk's Houston subsidiary, which may explain how the American subsidiary wound up in deep and hot water with OFAC. And while I am engaging in ripe, if not rank, speculation it also seems reasonable to assume that the Stena Bulk employees in Houston probably thought, incorrectly of course, that the Sudan sanctions wouldn't apply to a foreign-flag ship owned by a foreign company that wasn't making a call at any U.S. ports.