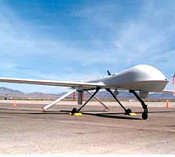 According to this report from the website of the Knoxville News Sentinel, the trial of Professor J. Reece Roth for violation of the Arms Export Control Act continued today with the testimony of Daniel Max Sherman, the only officer of Atmospheric Glow Technologies ("AGT") to be indicted in the matter. AGT was the company that contracted Professor Roth to work on the military UAV contract during the course of which it is alleged that Professor Roth disclosed controlled technical data on the project to a Chinese graduate student. Sherman previously pleaded guilty to export violations in connection with his involvement in the project and, it would appear, there is no love lost between Sherman and Professor Roth or between Sherman and his former employer.
According to Sherman, the proverbial [insert expletive here] hit the fan when Roth went to AGT and indicated that, in addition to the Chinese grad student already working on the project, he wanted an Iranian graduate student to the work on the project. [Are there no competent U.S. grad students at the University of Tennessee?] AGT, although happy to export controlled technical data about military technology to a national of China, a country subject to a U.S. arms embargo, had a sudden crise de conscience and decided to draw the line at a national of Iran.
AGT's refusal prompted Roth to do something that I'll bet he now sincerely regrets. He marched off to Robin Witherspoon's office, who was UT's Export Control Officer, and, according to Sherman, asked her to get a license for the Iranian grad student to work on the project. During the course of this discussion he revealed that a Chinese grad student was already working on the project. From there things went rapidly downhill, to say the least. Witherspoon, according to the government's pre-trial brief, told him that one couldn't get a licenses for either Iran or China, and that the participation of the Chinese grad student was illegal.
Witherspoon also informed AGT that the participation of the Chinese grad student was illegal. According to Sherman, AGT went into damage-control mode and feigned ignorance that any foreign nationals were working on the project. They were shocked, shocked, as they say, to find out that export violations were going on. Sherman testified that, in fact, he and others at AGT not only knew about the Chinese student's participation but also shared controlled technical data with him. When Sherman indicated to company officials that he wanted to tell the truth to government investigators, he was told that the company would not provide him with legal representation. So, he told federal investigators during the early part of the investigation that AGT had no inkling that Roth was using foreign nationals.
By putting Sherman on the stand, the prosecution is endorsing his testimony that others at AGT knew what was going on and knew that it was illegal. Why Sherman is the only one to get indicted, while his equally culpable superiors appear to have escaped prosecution, is far from clear, and may erode the jury's confidence in the government's case.
Sherman's testimony does no favors for Professor Roth either. If indeed Roth asked Witherspoon to apply for a license for the Iranian student, it's hard to credit the defense's assertion that Roth disagreed with Witherspoon's assertion that the participation of the Chinese student was illegal.
NOTE: Export Law Blog will be going on a brief hiatus for the Labor Day holiday starting tomorrow, but we'll be back on Tuesday, September 2, with more on the Roth trial and other export law matters of interest. Also, August 21 was our second anniversary, and I'd like to take this opportunity to thank the many readers, friends and commenters, without whom a first anniversary, much less a second one, wouldn't have been possible.