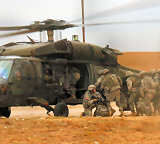 Alexander Latifi, who was acquitted last February on criminal export charges, has been busy seeking vindication, including seeking an award of attorneys' fees under the Hyde Amendment. In a motion filed on June 12, 2008, we get a better idea of some of the defense arguments that the court may have relied upon in acquitting Latifi.
We have previously speculated that the availability on the Internet of the bifilar weight assembly drawing that was exported was a significant factor, although DDTC has continued to maintain the absurd position that drawings and photographs on the Internet might not be "public domain" material. Additionally, Latifi's Hyde Amendment motion argues that the drawing, which was provided to Latifi by Redstone Arsenal as part of the bid solicitation, did not bear the legends required by Department of Defense Directive 5230.24. That directive provides, at paragraph E3.1.1.8, as follows:
All technical documents that are determined to contain export-controlled technical data shall be marked "WARNING – This document contains technical data whose export is restricted by the Arms Export Control Act (Title 22, U.S.C., Sec 2751, et. seq.) or the Export Administration Act of 1979, as amended, Title 50, U.S.C., App. 2401 et. seq. Violations of these export laws are subject to severe criminal penalties. Disseminate in accordance with provisions of DoD Directive 5230.25."
Failure by the U.S. government to comply with this labeling requirement is not in itself a defense to a prosecution for a violation of the Arms Export Control Act and the International Traffic in Arms Regulations. But it could be relevant to the scienter requirement if the defendant did not otherwise know that the data or drawing contained technical data. Because of the scienter requirement for AECA and ITAR prosecutions, the government must prove that the defendant knew that the export was unlawful. But if there was other evidence that the defendant knew the export of the drawings was illegal, the failure of the DoD to abide by its own labeling regulations wouldn't be relevant.
[Hat tip to David Brady who sent me a copy of Latifi's Hyde Amendment motion]