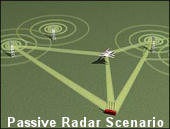 The December 2006 Wassenaar Plenary made a number of changes to the Waasenaar control lists, and as I noted on Friday, I've been going through the changes to find anything of interest. One change of interest (particularly to Lockheed Martin) is the addition of a new category 5.a.1.g. which controls:
Passive Coherent Location systems or equipment specially designed for detecting and tracking moving objects by measuring reflections of ambient radio frequency emissions, supplied by non-radar transmitters.
Passive coherent location systems are more commonly known as passive radar systems. Unlike conventional radar which relies on a radio signal transmitted by the radar system, a passive radar system uses radio signals by other existing transmission sources, typically television and radio stations. Lockheed Martin's Silent Sentry is a passive radar system which Lockheed began to sell in 1999.
As receiving equipment and the necessary signal processing equipment have become smaller, cheaper and more powerful, passive radar represents a highly-mobile, extremely sensitive and almost completely covert method for tracking moving objects such as airplanes and helicopters. Moreover, passive radar systems can detect low-flying stealth aircraft.
Frankly, we are a little surprised that it took this long for such a technology to wind up on an export control list.