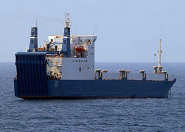 No, not the Pittsburgh Pirates. Real pirates, as in the Somali pirates that seized the Ukrainian merchant vessel Faina off the coast of Somalia. But before you get all excited, don pirate gear, break out a bottle of rum and start talking like a pirate, you only get to root for the pirates here because it appears that — accidentally, of course — the seizure of the Ukrainian ship might have been in the best interests of the United States, not that the pirates knew that or cared when they seized the arms-laden vessel.
According to Lt. Nathan Christensen, a deputy spokesman for the U.S. Navy's Bahrain-based 5th Fleet, the ship's cargo, consisting of tanks, grenade launchers, and ammunition, was ultimately destined for Sudan not for Kenya. For what it's worth, the pirates also say the arms are headed for Sudan. Of course, they also say that the $20 million that they are demanding is not a ransom, but a "fine for unlawfully transporting weapons on Somali waters."
Sudan is subject to both U.S. and U.N. arms embargoes. Some sources have suggested that the arms are more specifically destined to Southern Sudan. The U.S. arms embargo, which doesn't strictly apply to this shipment, has been lifted for non-lethal military assistance and equipment for Southern Sudan, although the Ukrainian cargo can hardly be described as non-lethal. The semi-autonomous region of Southern Sudan is not subject to the U.N.arms embargo which covers only Darfur.
Even so, Kenya is still claiming that the arms are not destined for Sudan, north, south, east or west.
On Monday, a government spokesman, Alfred Mutua, said: "We buy weapons all the time. I don't see what the big deal is." …

Ukrainian tanks, though, are a relative anomaly in Kenya, which has been a close ally of the United States and Britain for decades and has been equipped with Western-made weapons. Mr. Mutua acknowledged this, saying most of Kenya's tanks were "old British tanks."

But, he added, the Ukrainian tanks were cheaper.
Cheaper, of course, if you don't include the cost of retraining Kenyan troops to use the new tanks. Or cheaper if they were headed to Sudan, including Darfur