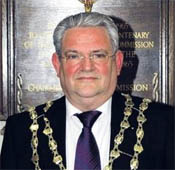 ABOVE: Nigel Howard Malpass
---
This blog reported back in June on the shenanigans of Nigel Howard Malpass, who assisted the Islamic Republic of Iran Shipping Lines ("IRISL") in evading U.S. sanctions on IRISL vessels by re-naming, re-registering and re-flagging those vessels. As we noted, Malpass accomplished this by setting up, and serving as a director of, shell companies in the Isle of Man and elsewhere that then became the "new" owners of the IRISL vessels.
Malpass, when his participation in the IRISL scheme was discovered by the New York Times, tried to run away from it as fast as he could, telling the Times (falsely) that he had ended all association with IRISL. But it's not only the New York Times that took an interest in Mr. Malpass. The BBC's investigative program "File on 4″ took an interest in Mr. Malpass after the Israelis boarded an IRISL vessel registered to one of Mr. Malpass's Isle of Man companies and discovered the vessel was carrying hundreds of tons of weapons disguised as civilian cargo. And now Mr. Malpass has (surprise, surprise!) a brand new story to tell the Beeb's File on 4 when they asked him why he was setting up, and serving on, shell companies in the Isle of Man that owned gun-running IRISL vessels.
Malpass has now stopped trying to push the canard that he is no longer associated with IRISL. Now he is claiming instead that everything he did, and is doing, for IRISL is completely legal. And he's enlisted the government of the Isle of Man to back him up on this dubious story:
Captain Malpass would not be interviewed by the BBC but said the companies had been formed at the request of a German bank which holds a mortgage on all of the ships.

In a statement he said the transactions were governed by English law and the way companies were set up was "the absolute norm in the business of ship ownership".

He added that the Manx authorities approved his business dealings which were arranged some years before the sanctions came into force.

Captain Malpass did not address whether these arrangements are also helping the Iranians evade the sanctions.
Even if you believe the German bank story or you believe Malpass's claim that IRISL decided to set up shell companies as new owners of its vessels and to re-register and re-name them long before the thought of sanctions on IRISL had crossed anyone's mind, the rest of his story is no defense. Paragraph 19 of UN Security Council Resolution 1929 requires member states to freeze the assets of persons, like Mr. Malpass, acting on behalf of IRISL, whether or not those actions might have previously been legal.
The Isle of Man is also busy trying to whitewash Mr. Malpass's ongoing activities on behalf of IRISL:
Concerns were raised last month in the Manx Parliament but the island's chief minister Tony Brown maintained that an investigation had revealed no wrongdoing and he denied that island had aided any breach of the sanctions.

"We have to be realistic we can't do any more, we shouldn't be expected to do any more."

He added: "Why should we shut down legitimate businesses…. we shouldn't be expected to take action the rest of the world won't."
Actually, that's exactly what the "rest of the world" required in the UNSCR 1929 and that is exactly what the "rest of the world" is expected to do. Malpass might have been within his legal rights to set up the shell companies for IRISL prior to the passage of UNSCR 1929. That doesn't mean he can continue to serve as a director on the boards of shell companies that act on behalf of IRISL after the passage of UNSCR 1929, at least as long as the Isle of Man, which is not a member of the UN, purports nonetheless to follow UN Security Council Resolutions.
[Thanks to my colleague Anita Esslinger for catching the Beeb report.]