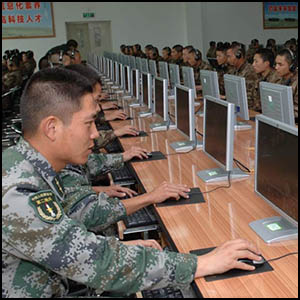 Recently, the Department of Defense issued  an interim rule that would impose on DOD contractors and subcontractors a contractual duty to provide "adequate security" from "unauthorized access and disclosure" for a broad array of unclassified information Additionally, the interim rule requires DOD contractors and subcontractors to report within 72 hours directly to the appropriate DOD office a "cyber incident" or "malicious software." A "cyber incident" is defined as an action on a computer network that compromises the network of has an "actual or potentially adverse effect" on the information on the network. Finally, the rule requires contractors to make available "media (or access to covered contractor information systems and equipment)" upon request.
The interim rule, which is immediately effective, applies to all contractors and subcontractors with "covered defense information transiting their information systems." The "covered defense information" to be safeguarded is extremely broad. It includes information provided to the contractor by or on behalf of DOD in connection with performance of the contract or "critical" or "controlled information stored by or on behalf of the contractor in support of the performance of the contract.
Of particular emphasis for readers of this blog, "covered defense information" also includes export controlled information, including "items identified in export administration regulations and munitions list," license applications, and "sensitive nuclear technology information." Beyond these obvious items, the covered export controlled information includes things not covered by existing export control regimes but "whose [sic] export could reasonably be expected to adversely affect the United States national security and nonproliferation objectives." We have no idea on earth what this could possibly mean or how any contractor can figure out what information, not covered by the EAR or the ITAR, actually fits in this category.
DOD recognizes that such cyber incident reports or other information provided to DOD under this interim rule may include a contractor's proprietary information, including personal information relating to its employees. In response, DOD states "the government shall protect against the unauthorized use or release" of such information. Does anyone else see the tremendous irony here? The United States government, which has been hacked left and right by the Chinese, the Russians and others, promises to protect the information. To add to the irony, the new rule only applies to unclassified information, which is precisely the type of information the USG has been unable to protect on its own.
Rest assured that anything that you provide to the DOD will be read almost immediately by the Red Army in China. Perhaps the U.S. Government should get its own cybersecurity house in order before it starts preaching to private industry.