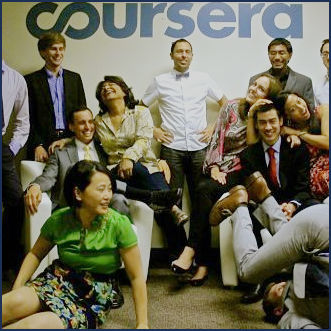 I missed this earlier, but back at the end of January, Coursera, a provider of the euphoniously acronymed MOOCs (Massive Open Online Courses) said "No MOOCS for you" to residents of Cuba, Iran, Syria and Sudan who wanted to better themselves by taking online courses such as "Scandinavian Film and Television" or "Buddhism and Modern Psychology." I certainly sleep better at night now knowing that the Cuban and Iranian threats are not being needlessly augmented by educating Cubans and Iranians on the subtle politics of Borgen or the psychological insights of the Four Noble Truths.
Because the online courses involve feedback, grading and the like, the concern is that these courses are an export of services, forbidden by the current sanctions on these countries, rather than the export of information, which is permitted under the Berman Amendment. Coursera is a little vague in explaining how it just found that out, saying that it "recently received information that has led to the understanding that the services offered on Coursera are not in compliance with the law as it stands" and that prior to that the law was "unclear."
Coursera has given Syrian students a reprieve by saying that the State Department has told it that OFAC's Syria General License 11A covers MOOCs for Syria. That license permits non-governmental organizations to export services to Syria in support of education. I'm not clear how Coursera qualifies as an NGO since it is not a non-profit but a for-profit corporation that seeks revenues and profits through its certification programs and sales of textbooks purchased through its affiliate relationship with Amazon. Nor am I quite clear how the State Department has acquired the ability to determine the scope of OFAC licenses.
The company claims that it is weeding out Cubans, Sudanese and Iranians based on IP addresses, apparently not having taken one of their own course on VPNs which would allow an Iranian wannabe student to appear, online at least, as a German or Italian or whatever. And since civil violations of OFAC rules do not require intent, Coursera is still liable if an Iranian is sitting in Iran but using a VPN to appear as if he or she were elsewhere.
This last point underlines a particular stupidity of applying a 19th century sanctions philosophy to a 21st century Internet where there are no borders. If an Iranian student is, in fact, sitting with his or her laptop in Germany, it would not be illegal for Coursera to provide its services to that student. It is only illegal when the student is in fact physically located in Iran. Now if you can identify a sensible policy which explains why it is more dangerous to teach an Iranian about Scandinavian TV while in Iran than it is in Germany, then you are much more clever than I am.