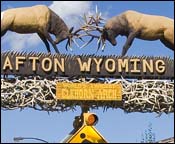 An Afton, Wyoming man, Matt Kallgren, was sentenced, on January 23, 2012, to three years probation with the first four months in home confinement on charges that he exported EAR99 diesel truck parts to Syria. Of course, since criminal penalties weren't enough in this case, the Bureau of Industry and Security ("BIS") piled civil charges on top of the criminal prosecution. Now BIS has announced a settlement of the civil charges pursuant to which Kallgren agreed to a $75,000 penalty and a three-year denial order, both of which were suspended for three years provided that he commits no further export violations and complies with the terms of his criminal sentence.
According to the charging papers, Kallgren was contacted by a Syrian company in 2006 which was seeking to purchase civilian diesel engine parts. When Kallgren attempted to ship the parts, his "normal freight forwarder" (which according to this local newspaper account was UPS) told him that items couldn't be shipped to Syria. He then used a freight forwarder recommended by the Syrian buyer to ship the parts to Syria by transshipping them through the UAE.
Miraculously Kallgren was subsequently the, er, beneficiary of an "Outreach" visit from Immigration and Customs Enforcement Agents who, allegedly, advised him on the U.S. laws prohibiting exports to embargoed destinations. (Another case which shows that the appropriate response to an "Outreach" visit is to call your lawyer.) Kallgren shipped a second order of parts via the UAE to Syria which, in a similarly miraculous fashion, were seized by Customs on their way out of the country. Allegedly, Kallgren doubled down and told Customs that the parts really were destined for the UAE. Really. I promise. Pay no attention to those commercial invoices.
Kallgren's company Powerline Components, which shares Kallgren's home address, also agreed to settle separate charges relating to these shipments. Under that settlement, Powerline agreed to a $60,000 fine and a three-year denial order. The denial order, but not the fine, was suspended.
Finally, in what appears to be a related case, R.I.M. Logistics agreed to a $50,000 fine to settle charges that it aided and abetted an export of EAR99 diesel parts to Syria via the UAE. Although that settlement does not mention Kallgren or Powerline, the timing and subject matter strongly suggests that these were the same exports that got Kallgren and Powerline in trouble. Interestingly, there is not a single allegation in the charging letter that it had any knowledge that the export to the UAE was ultimately destined to a customer in Syria. One might suspect that R.I.M. was the freight forwarder recommended by the Syrian customer, in which case R.I.M. might have had knowledge of the ultimate destination of the export. But without making that assumption, and based on the face of the charging documents, R.I.M. was held to be absolutely liable for its customer's misdeeds whether or not it had any knowledge of them.