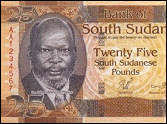 Even though the U.S. has lifted its Sudan sanctions with respect to the newly-minted state of South Sudan, that has not resolved the conundrum of U.S. oil investment and activity in South Sudan. South Sudan is land-locked, and all oil from South Sudan can be commercialized only by using a pipeline that runs through Sudan on its way to Port Sudan on the Red Sea.
In a guidance on the Sudan sanctions released back in April, the Office of Foreign Assets Control ("OFAC") noted that the continuing sanctions on Sudan would prohibit U.S. oil companies
from providing services to the petroleum industry in the new state if those services would benefit the Government of Sudan or relate to the petroleum industry in Sudan, or from transporting exports of petroleum or petrochemical products through Sudan.
Revenue-sharing arrangements between Sudan and South Sudan arising from South Sudan's use of Sudan's pipeline would further complicate matters. Because of the inevitability of oil transport through Sudan and revenue-sharing arrangements between the two countries, this has been seen as, for all intents and purposes, a complete bar to U.S. oil companies doing business in South Sudan.
Apparently OFAC is now trying to find a way to work around that. Needless to say, because the sanctions on Sudan were imposed by Congressional legislation, OFAC doesn't have a completely free hand here without enabling legislation from Congress. Still, OFAC is trying to determine what can be done in the absence of such legislation.
Princeton Lyman, the U.S. special representative to South Sudan, told a trade briefing in Washington, according to this item in Petroleum Economist, that a task force at OFAC was working on options to permit U.S. oil activity in South Sudan.
[Lyman] said the Treasury Department would define new criteria for licensing oil deals that would provide only incidental benefits to Sudan, making some deals with South Sudan possible. "The rules of the game are still being worked out and that is very frustrating to [South Sudan] because it wants US oil companies there," he said. "There is a task force working on it and they will have something soon."
I have to say I'm at a loss to see how anything could be structured that only provides "incidental" benefits to Sudan short of bypassing the Sudanese pipeline and any revenue sharing arrangement, both of which appear to be impossible, at least in the near term. But there is huge pressure on OFAC to structure something because the Chinese, which are major players in the oil industry in Sudan and South Sudan, are the only ones who will conceivably benefit if OFAC does not find a solution.