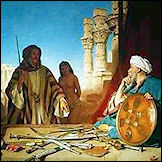 Another problem with the arms brokering regulations proposed by the Directorate of Defense Trade Controls ("DDTC") is their jurisdictional scope, which is impossibly vague and far exceeds the scope of permissible regulation under the Brokering Amendment which was passed by Congress and which permitted DDTC regulation of arms brokers in the first place.
So let's start with vague. Under the current rules, the rules' requirements of registration and approval apply to foreign brokers "subject to U.S. jurisdiction." Normally this would mean foreign persons with sufficient contacts with the U.S. so as to permit jurisdiction over them consistent with the due process clause. DDTC has been arguing that this should also include any foreign person who has any contact with U.S.-origin defense articles. The new rules would codify this remarkable and extraordinary claim for the permissible scope of U.S. jurisdiction. stating that its requirements cover activities of:
any foreign person located outside the United States involving a U.S.-origin defense article or defense service.
Notwithstanding the numerous ways that U.S.-origin can be defined the proposed rules are completely silent on what constitutes a U.S.-origin defense article. Is a tank with one lugnut made in Grand Rapids a U.S.-origin article. Or is there a requirement that U.S. parts constitute at least 50 percent of the value of the item? Or does it require that a substantial transformation or tariff classification shift occur in the United States. The new rules provide absolutely no guidance, largely because, I suppose, DDTC sees the United States as having unlimited jurisdiction over foreign persons, and therefore, the agency intentionally wishes to keep this concept vague.
Whether or not the U.S. has such broad jurisdiction, it is quite clear that when Congress passed the Brokering Amendment which authorized these rules in the first place, it didn't intend to confer such broad jurisdiction. As I detailed in this article (subscription required) back in 2006 in Export Practitioner, the House Report on the Brokering Amendment makes it crystal clear that Congress only intended to cover "U.S. persons (and foreign persons located in the U.S.)." It does not authorize DDTC to try to exert jurisdiction over foreign persons outside the United States that may have some connection to a defense article that has one U.S. part in it.