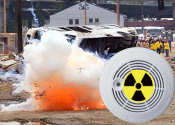 In an earlier post about Nuclear Regulatory Commission controls on the export of americium-241, the isotope used in smoke alarms, we discussed a group of competency-challenged terrorists who were planning on building a dirty bomb from smoke alarms. In an excellent article in this week's New Yorker, Steve Coll provides more details on the not-so-alarming plot:
Charles Ferguson. . ., a former nuclear submarine officer trained in physics, . . . co-wrote an unclassified report titled "Commercial Radioactive Sources: Surveying the Security Risks." About two years later, F.B.I. agents . . . asked to meet with him. They brought a document showing that some of his report had been downloaded onto the computer of a British citizen named Dhiren Barot, a Hindu who had converted to Islam. Barot, it turned out, had been communicating with Al Qaeda about a plan to detonate a dirty bomb in Britain, and he had used a highlighting pen on a printout of Ferguson's study while conducting his research.

The report described how large amounts of certain commercial radioactive materials might pose a danger to a terrorist who tried to handle them. "This seems to have worried him," Ferguson told me, referring to Barot, "so he decided to look at smoke detectors." Some detectors contain slivers of americium-241; the isotope's constant emission of radiation creates a chemical process that screens for smoke. Barot informed his Al Qaeda handlers that he was thinking about buying ten thousand smoke detectors to make his bomb. In fact, to make a device that would be even remotely effective, Ferguson said, he would have had to buy more than a million. "Either his reading comprehension was poor or he was evading the assignment," Ferguson told me.
The rest of the article is an interesting account of the current efforts by the U.S. government to interdict nuclear-terrorism on U.S. soil. Click here to read it.