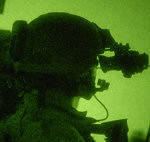 On Monday the Directorate of Defense Trade Controls ("DDTC) published a notice in the Federal Register that the three-year statutory debarment of ITT Night Vision, scheduled to end on March 26, 2010, was ended effective February 4, 2010. DDTC noted, in justifying the early termination, noted that
ITT Corporation has taken appropriate steps to address the causes of the violations and to mitigate any law enforcement concerns.
While the denial order was in effect, ITT Night Vision products could be exported by ITT and by resellers but only pursuant to a specific transaction exception from DDTC. Such transaction exceptions were granted only with respect to exports for end-use by the U.S. government or for end use by certain allies. As a result of DDTC's actions, license applications to export ITT night vision products will no longer need to contain information supporting a transaction exception.