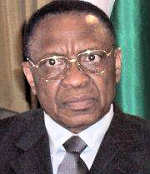 ABOVE: Mamadou Tandja
---
The Directorate of Defense Trade Controls ("DDTC") announced today that applications for exports of defense items and services to Niger might be delayed, possibly for a really, really long time:
In response to recent events in the Republic of Niger (Niger), DDTC wishes to inform exporters that although there is no current U.S. or UN arms embargo on Niger, the final decision of license applications for the export of U.S. Munitions List (USML) items to Niger received from this date or currently in the review process may be delayed. License applications will continue to be reviewed on a case-by-case basis, but approval should not be assumed. We encourage exporters to take the current situation into account and if applying for a new license to export or re-export USML items to Niger, that the license application provide detailed information on the end-use and end-user of the USML items.
The recent events referred to in the DDTC announcement were actions taken last August by Niger's President Mamadou Tandja (or Tandja Mamadou, there seems to be some dispute as to the correct order) to amend his country's constitution to give himself the right to run for a third term. The action was taken after a disputed referendum that was boycotted by the opposition and that Tandja pushed through by dissolving the parliament and the constitutional court.