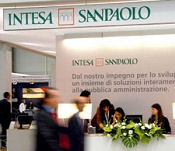 Italian wire service Adnkronos International reported today that the New York branch of Italian bank Intesa Sanpaolo is under investigation in the United States in connection with its involvement in U.S.-dollar wire transfers originated by sanctioned banks and individuals in Iran. Although few details are given in the report, it appears that investigators are claiming that the transfer documents failed to identify the correct originators of the transfers. Investigators have also alleged that the transferred funds were used to buy weapons.
The investigation is being conducted jointly by New York, U.S. and Italian authorities. Police authorities in Milan claim to have uncovered evidence that sanctioned Iranian banks asked Intesa Sanpaolo to conceal their names on the international funds transfers. Investigators have also stated that Intesa Sanpaolo is one of 10 major European banks under investigation for handling wire transfers for sanctioned Iranian banks.
Intesa Sanpaolo says that it is cooperating fully with the investigation.