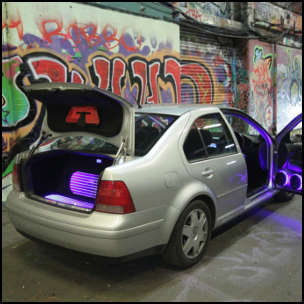 We have followed the saga of Epsilon Electronics extensively, beginning with the posts titled The Auto Sound and the OFAC Fury Part I and Part II followed by Epsilon, Epsilon and, then, As Epsilon Lay Dying, which discussed the federal district court's decision reviewing OFAC's $4.073 million fine imposed on Epsilon. Epsilon has persevered, and now the D.C. Circuit Court of Appeals has spoken in an opinion setting aside the fine and remanding the case back to OFAC for further proceedings.
I am going to break my thoughts on the D.C. Circuit's opinion into several posts. This post will deal with an issue that Epsilon lost, namely its argument that it couldn't be fined under section 560.204 of the Iranian Transactions and Sanctions Regulations ("ITSR") without a showing that its products wound up in Iran. At issue were shipments Epsilon made to a distributor in Dubai that OFAC said only or mostly dealt with Iran. OFAC's argument was that 560.204 was violated when Epsilon shipped the goods to Dubai when it knew, or should have known, that the goods would then be exported to Iran. According to OFAC, the shipment to Dubai was the violation of the ITSR whether or not the goods ultimately made it to Iran. (Significantly, OFAC did not charge Epsilon with attempt under section 560.203, where it would clearly not require a showing that the goods wound up in Iran.)
Section 560.204 prohibits exports to Iran "including the exportation … to … a third country undertaken with … reason to know that such goods … are intended specifically for … re-exportation, directly or indirectly, to Iran." Using a somewhat bizarre analogy the Court reasoned that a shipment to Dubai with reason to know the goods were going to Iran was an "export to Iran" even if the goods never got to Iran.
Suppose you put a birthday card in the mail, addressed to your brother. While the card is still en route, your mother asks you, "Did you send a card to your brother?" In line with OFAC's usage, you would respond, "I sent a card to him, but it hasn't arrived yet," because you put the card in transit, intending it to reach him. Following Epsilon's usage, though, you would have to say, "I didn't send a card to him," because the card has not yet arrived.
This strange analogy fails because here the card is not put in the mail addressed to the brother. Instead, it was put in an envelope addressed to a third party with a note saying that if the third party saw the brother he should give this card to him. When Mom asked about the birthday card, only the most reprobate of siblings would respond that he sent the card to his brother. "No, Mom, but I did send it to Joe Schmo with a request that he give it to Bill if he sees him."
The dissenting opinion by Judge Silberman notes that the majority opinion's notion that a shipment to Dubai with reason to know it was going to Iran was an "export to Iran" is a notion that is inconsistent with OFAC's decisions below. Judge Silberman points to a statement made by OFAC in the penalty proceeding that "multiple facts tend to show that the goods exported to Asra were sent to Iran," which, "fudged the answer to the crucial question" whether a violation occurred without regard to whether goods ever wound up in Iran.
In my view there is another reason that section 560.204 can't be read in the fashion suggested by the majority opinion. The statutory basis for the regulation is the International Emergency Economic Powers Act which, in section 1702, provides the power to the President to bar exports to a foreign country after declaring an emergency with respect to that country.  A declaration of national emergency has, in fact, been issued with respect to Iran. But, section 1701(b) of IEEPA provides:
The authorities granted to the President by section 1702 of this title may only be exercised to deal with an unusual and extraordinary threat with respect to which a national emergency has been declared for purposes of this chapter and may not be exercised for any other purpose.
Here Epsilon shipped product to Dubai. Its alleged "reason to know" that the goods might go to Iran was that the distributor had business in Iran. Even if the distributor was contractually obligated to sell the goods only in Dubai and that's the only place they were sold, OFAC's reasoning would be that this "reason to know" was enough for there to be a violation. That, I think, does not deal with an emergency declared with respect to Iran. This would not even qualify as an attempted export to Iran, which I think is the farthest limit that IEEPA permits sanctioning an activity without an actual export to Iran.