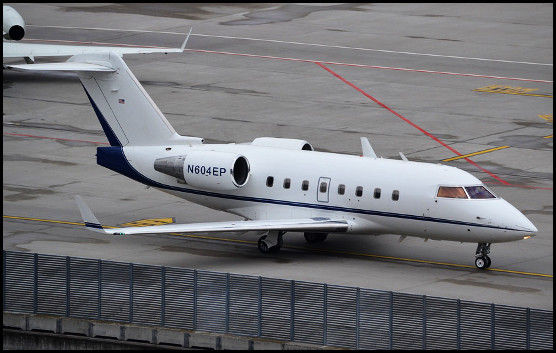 N604EP in Zurich last January (Alec Wilson via Flickr, CC-BY-SA-2.0)
According to an article in the New York Times, and a picture snapped by one of its reporters in Tehran, a U.S. registered corporate jet with a discreet U.S. flag painted on the tail and with the registration number N604EP was spotted three days ago on the runway of Mehrabad Airport in Tehran, Iran. At first, apparently not having seen the photographic evidence, Director General of Tehran's Mehrabad Airport Nasrollah Mansouri Shirazi told the Tasnim News Agency, an IRGC-affiliated group, that no U.S. planes had landed at his airport. (Baghdad Bob is alive and well at the Mehrabad Airport!)
The appearance of the U.S. plane in Tehran has, of course, resulted in a whirlwind of speculation about what it is doing there. As the Times correctly points out, its unlikely to be a covert diplomatic mission what with the U.S. flag emblazoned on the tail and the jet sitting in full daylight in a spot where a reporter could snap a photograph. (Such trenchant observations are why the New York Times is, after all, the U.S. newspaper of record.)
The whole affair has the Bank of Utah, which owns the plane in trust for some shadowy and undisclosed investors, all flustered.
Brett King, one of its executives in Salt Lake City, said, "We have no idea why that plane was at that airport.

…

Mr. King, who helps run the bank's trust services business, said the bank had no "operational control" or "financial exposure" to any of the planes.

…

For his part, Mr. King said Thursday in an interview that he was trying to get to the bottom of the aircraft's presence in Tehran. "The Bank of Utah is very conservative, and located in the conservative state of Utah," he said. "If there is any hint of illegal activity, we are going to find out and see whether we need to resign" as trustee.
If the jet was in Iran without authorization, the Bank, as the legal owner of the plane, is going to have a hard time trying to wash its hands of the matter simply by resigning as "trustee" and trying to walk away from the issue. It will certainly need to demonstrate to federal regulators that it took all necessary steps in its dealings with the mysterious owners to prevent them from flying the plane to embargoed destinations without authorization.
One final amusing note is that the New York Times cannot figure out which agency needed to authorize the plane to land in Iran:
Under United States law, any American aircraft would usually need prior approval from the [Treasury Department's Office of Foreign Assets Control] to go to Iran without violating a complicated patchwork of rules governing trade.

In the case of this particular aircraft, powered by engines made by General Electric, the Commerce Department typically would have to grant its own clearance for American-made parts to touch down on Iranian soil."
Er, no, the license from OFAC would be enough. If the Times reporter spent a few moments with Google he would have easily found the Commerce Deparment saying this:
Although BIS maintains license requirements for Iran, OFAC is responsible for administering most Iran sanctions. You are not required to seek separate authorization from BIS to export or reexport an item subject to both BIS's Export Administration Regulations (EAR) and OFAC's Iranian Transactions and Sanctions Regulations (ITSR) (31 CFR Part 560). However, you will also violate the EAR if you do not obtain an OFAC authorization if one is required.
I guess the fact-checkers at the Gray Lady aren't what they used to be. . . .