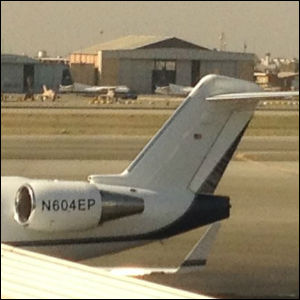 Yesterday the New York Times followed up on its article about the mysterious U.S. plane seen on the runway of an airport in Tehran. According to the follow-up article, the plane was leased by the Bank of Utah by a Ghanaian mining company owned by a brother of Ghana's president. Naturally, this story was an opportunity for the New York Times to quietly correct the mistake we pointed out in the first article but to go on and make yet another mistake about U.S. sanctions laws. All the news that fits to mess up could be the new slogan for the Times.
As we pointed out in our post on the first article, the Times mistakenly claimed that a license from the Department of Commerce was required for the plane to land in Iran. In the latest story, and without acknowledging the previous error, the Times gets this part right:
To travel to Iran, the aircraft would typically need a license from the Treasury Department's Office of Foreign Assets Control, the primary enforcer of American sanctions against Iran.
(What do you want to bet they saw our post?)
Of course, fixing one mistake didn't stop the Times from making a brand new, and even bigger, mistake:
While the Ghanaian company is not subject to the patchwork of sanction rules constricting trade between Iran and the United States, the Utah bank, based in Ogden, is bound by sanctions.
The Ghanaian company isn't subject to U.S. sanctions? Really? Maybe Times reporters should, you know, pick up the phone and call a sanctions lawyer before opining incorrectly on the scope of U.S. sanctions against Iran. I mean, after all, that's what that shiny little iPhone in your pocket is for.
Because the plane is classified as ECCN 9A991, it needs an OFAC license in order to be re-exported by a foreign person to Iran. That, after all, is the whole point of 31 C.F.R. § 560.205, which I'll cite in full here for the benefit of the Times reporters who might not otherwise be able to find it on their own:
(a) Except as otherwise authorized pursuant to this part, and notwithstanding any contract entered into or any license or permit granted prior to May 7, 1995, the reexportation from a third country, directly or indirectly, by a person other than a United States person, of any goods, technology, or services that have been exported from the United States is prohibited, if:

(1) Undertaken with knowledge or reason to know that the reexportation is intended specifically for Iran or the Government of Iran; and

(2) The exportation of such goods, technology, or services from the United States to Iran was subject to export license application requirements under any United States regulations in effect on May 6, 1995, or thereafter is made subject to such requirements imposed independently of this part (see §560.414).
http://www.exportlawblog.com/wp-content/uploads/2014/04/IRAN-master675.jpg