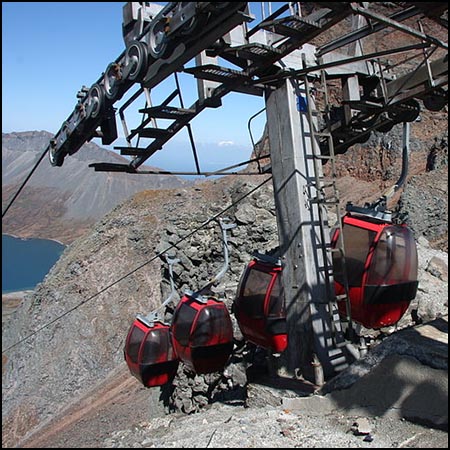 Dennis Rodman and his coterie of NBA All-Stars recently returned to the United States from North Korea after Rodman's birthday basketball bash for his "friend for life" Kim Jong Un.  While Rodman's zealous zaniness has grabbed global media headlines, another sports-related development in North Korea, is more significant to sanctions and export control issues: the grand opening this month of the Masik Pass luxury ski and hotel resort.
Pictures taken of the resort show the 120-room hotel, indoor swimming pool and 11 ski runs.  Other pictures also show, however, Italian snow plows, Canadian snowmobiles and Swedish snow cannons.  Recent news reports began to shed light on the obvious sanctions issue: how did North Korea build a ski resort without someone violating sanctions.  U.N. Security Council Resolution 2094 and others prohibit members from selling "luxury goods" to North Korea and even though "luxury goods" are not defined and are not limited to the specific luxury items delineated in Annex IV of Resolution 2094, it seems hard to deny that snowmobiles, snow cannons and the other accoutrements of a "luxury" resort are not "luxury goods."
According to SkyNews, the Italian snow plow manufacturer has predictably said, "Snow groomers are sold directly to ski resorts and distributors and it is possible that a used snow groomer is than sold to another final user by ski resorts or distributors themselves. On this kind of business we as a producer do not have any influence, no company can avoid that this happens."
Western goods flowing into North Korea is not new.  In fact, we reported last year on the curious infiltration of an Apple iMac on Kim Jong Un's desk and suggested it, like many Western goods in North Korea, came from China.  Plausible deniability about to whom a manufacturer's customers sell its products becomes, of course, more attenuated when your business is selling "state-of-the-art snow cannons" that retail for 14,000 Euros each.
U.N., U.S., E.U. and Canadian sanctions policies fail if a repressive regime like North Korea's so-called supreme leadership continues to violate human rights but opens a ski resort to sustain its control.  Like sanctions against Iran, Cuba and other countries, a principal goal is to curtail infrastructure projects that support the sanctioned governments.  While a ski resort is not the largest national infrastructure project, sanctions were designed to prohibit it being built and supported by Western goods and technology.
Even if the sales of the items found at Masik Pass were beyond detection of reasonable know-your-customer requirements, Italian, Canadian and Swedish enforcement authorities would at least have grounds to inquire further, especially company records and communications involving sales to Chinese resellers that may have been possible routes to North Korea.  While any manufacturer or retailer can't know everything about its customers, knowing more gives a company greater support to conclude that its business does not involve impermissible activities or give law enforcement a reason to examine its business further.
Clif adds: Blame me, not George, for the terrible pun in the post title.