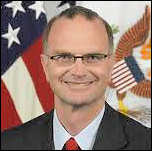 ABOVE: Gregory Schulte
---
The House Armed Services Committee last week held a hearing on whether the Thales sale of an ITAR-free satellite to the Chinese had, in fact, leaked U.S. space technology to the Chinese. During that hearing, Gregory L. Schulte, deputy assistant defense secretary for space policy, tried to allay concerns by the Committee that export reform would be a boon to the Chinese.
And we are not proposing removing the Tiananmen Square sanctions that would remain in place even with export-control reform, meaning that items still on the Munitions List could not be exported to China. And, also meaning, that we would not allow the launch of satellites from Chinese launch vehicles.
He went on to say that although some space items would, as part of export reform, be moved to the less restrictive Commerce Control List, those would only be "space items that are already widely available." Even then, according to Schulte, such space items that were moved to the CCL would still be subject to strict controls with respect to licensing exports to China.