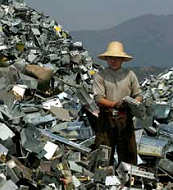 While some in the export community have charged the Bureau of Industry and Security ("BIS"), the Office of Foreign Assets Control ("OFAC") and the Directorate of Defense Trade Controls ("DDTC") of being overzealous in their enforcement activities, it is a rare day that an agency enforcing export rules is accused of being to lackadaisical in its enforcement of those rules. Well, that rare day is today, or rather last Thursday, when the Government Accountability Office ("GAO") released a report criticizing the Environmental Protection Agency ("EPA") for lax enforcement of its rules on the export of cathode ray tubes.
The so-called CRT rule prohibits commercial export of used CRTs, both broken and intact, for recycling unless the exporter provides notice of export to the EPA, and the country of destination provides to the EPA it's consent to receive the CRT shipment. Criminal and civil penalties may be imposed for violations of the rule.
The GAO report revealed that the EPA had done little to enforce the CRT rule since it went into effect in January 2007. Since that time, Hong Kong has returned 26 containers of CRTs on the ground that imports violated its own hazardous waste rules. If the CRT rule had been complied with, Hong Kong would have withheld consent after the export was notified to the EPA, and the export would not have been allowed. Indeed the first and only enforcement action under the CRT rule, a $32,500 administrative proceeding against Jet Ocean Technology, occurred in July of this year and was the result of GAO's uncovering the violation and bringing it to the EPA's attention.
The EPA, of course, was not pleased by GAO's smackdown, expressing its belief that the best way to enforce the CRT rule is to continue doing what it was doing before the GAO started meddling in EPA's business. According to the report:
In commenting on a draft of this report, EPA generally disagreed with our recommendations, stating, among other things, that (1) it did not want to build an "extensive compliance monitoring and enforcement program" around the CRT rule … and (2) it preferred nonregulatory, voluntary approaches to address the problems discussed in this report.
I'm certain that many exporters would like to hear similar words from BIS, OFAC or DDTC, but, of course, that would be a foolish expectation since those agencies, unlike the EPA, are actually interested in stopping the exports at issue.