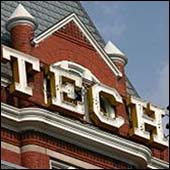 A long article published today on the Bloomberg News website tells the story of a voluntary disclosure by Georgia Tech after one of its instructors inadvertently posted some export-controlled data on the Internet. The article follows this anecdote up with a ton of (virtual) ink about how universities are giving away all of our military secrets and how we shouldn't be surprised when this results in the U.S. becoming a satellite province of China or Iran.
First, here's what the story reveals about the Georgia Tech voluntary disclosure. According to the story, a research scientist at the university wanted to put course materials and videos of his lectures for his course "Infrared Technology and Applications" on a DVD because he was planning to retire and he wanted to use these materials to train his successor. When the university's media staff encountered problems putting the video and materials on DVD, they suggested making the information available by a link. The research scientist approved this idea, thinking that it was an internal link, whereas it was an ordinary Internet link. The material was available online for about three weeks before the mistake was discovered and the materials were taken down. Although the video received hits only from the United States, some of the Powerpoint slides that were posted received hits from foreign countries, including 33 from China and one from Iran. The university disclosed this lapse to the Directorate of Defense Trade Controls which issued a warning letter but imposed no penalties, something which appears to have scandalized the Bloomberg reporter.
Above and beyond the description of the Georgia Tech voluntary disclosure, the article takes a Chicken Little approach to the dangers posed to national security by university research:
Eager to preserve their culture of openness and global collaboration, campuses are skirting — and even flouting — export-control laws that require foreigners to hold government licenses to work on sensitive projects.
To support this startlingly broad conclusion, the reporter humps the Roth case for all it is worth and cites some voluntary disclosures by several universities. That doesn't much sound like "flouting" export rules to me, but perhaps Bloomberg has a different definition of that word.
For those familiar with the sorts of information which may be export-controlled (but not classified), it is hard to get too worked up about the national security implications of this. After all, business proprietary information about how to make handcuffs is controlled under the Commerce Department's rules. Suffice it to say, things that are of real concern are classified. Accordingly, I am not scandalized when voluntary disclosures by universities relating to deemed exports result in warning letters rather than jail time for everyone involved as the reporter seems to think is appropriate. And because "fundamental research," which is exempted from export controls, is an incredibly vague term that is difficult to apply in many contexts, overzealous enforcement of export rules to university research would have an unwarranted chilling effect on that research given the number of foreign students at almost every college and university. Well, I suppose colleges could adopt an American-only admissions policy, and I wouldn't be surprised if there weren't certain advocates of deemed export controls who secretly wish for such national homogeneity at our institutions of higher learning.