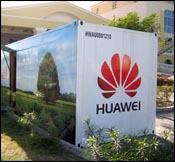 Chinese telecom handset and equipment manufacturer Huawei has been forced by the Pentagon to seek retroactive approval from the Committee on Foreign Investment in the United States ("CFIUS") for its $2 million acquisition of some of the assets of 3Leaf Systems, a California-based company that developed technology to link separate computers together to create more powerful computing solutions. If CFIUS determines that this acquisition could pose a threat to U.S. national security, it could require Huawei to divest those assets.
Retroactive requests for approval of acquisitions by CFIUS are extremely rare. Even more unusual is imposing this requirement on an asset purchase worth less than the value of many Manhattan condos. Huawei acquired only the intellectual property of 3Leaf and 15 of its 60 employees. Equipment, buildings and other hard assets of the company were not purchased.
Under section 800.302(c) of CFIUS's regulations, an asset acquisition does not require CFIUS approval "if such part of an entity or assets do not constitute a U.S. business." An example given by the regulations of a covered asset acquisition that constitutes acquisition of the business is an acquisition of "production facilities, customer lists, technology, and staff." Under these standards, it seems hard to say that Huawei was required to obtain CFIUS approval.
The reason why I'm posting on this is a novel theory advanced by Huawei as to why retroactive approval is not needed in this case:
Huawei executives insist they weren't trying to hide anything from the government and note that they filed with the Commerce Department seeking to classify the technology under export control requirements before the company completed the acquisition.
Leaving aside the issue that the Bureau of Industry and Security, the part of the Commerce Department that considers classification requests, has no power to stop an acquisition, the argument that a CCATS filing at BIS would give notice of a planned acquisition to the U.S. government is risible at best. Huawei might as well have argued that the unemployment compensation application filed by the employees left behind also constituted notice of its planned acquisition.