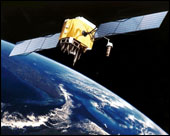 According to this article in Aviation Week, one aspect of export reform has at least some chance of eeking through the lame duck Congress that will convene after the upcoming elections. The locus of this hope is bipartisan language in the House version of the defense authorization bill that would permit the President to move commercial satellites from the United States Munitions List to the Commerce Control List. One effect of such a change is that commercial satellites, which can't be exported to China while listed on the USML, could be exported to China pursuant to a license from the Department of Commerce once moved to the CCL.
The Senate version of the defense authorization bill does not contain that language but there appears to be some possibility, according to a Senate Democratic aide, that the Senate, in order to get the bill passed, will consider a pre-conferenced version of the bill with the House language included. A Republican Senate staffer has suggested that Senate Republicans would not oppose such an approach.
UPDATE: A reader sent me a copy of the language from the House version of the NDAA.  That language, which can be found in section 1241, as currently written, would prohibit Commerce from granting licenses for the export of any "commercial satellite or related component or technology" to China.