A notice that further processing of all export licenses for CCL items to Russia just appeared in the last several days in the slider on the home page of the website for the Bureau of Industry and Security ("BIS"):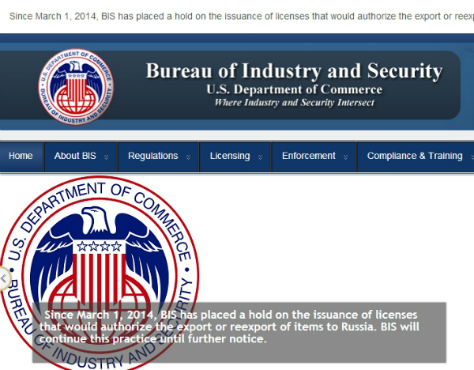 (I'm posting a screenshot because there is no reliable permalink to the slider image).
Existing licenses are not affected; only license applications that were not granted as of March 1, 2014, are covered by this policy. Compare this to the U.K. action which suspended all existing licenses and applications for military and dual-use items destined for the Russian military "which could be or are being deployed against Ukraine." The State Department has not yet taken action on licenses and applications for USML items to Russia, although possible action in that regard is rumored.
UPDATE: DDTC has just posted this on the home page of its website:
The Department of State has placed a hold on the issuance of licenses that would authorize the export of defense articles and defense services to Russia. State will continue this practice until further notice.