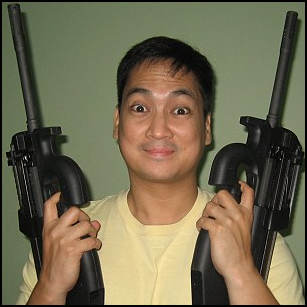 I'll admit it and apologize in advance.  The main reason for this story and for this link to Britain's worst newspaper is so that I can run the picture of Ariel Maralit. Ariel, the guy in the photo on the right brandishing the weapons and wearing the moronic grin, is the brother of former NYPD officer Rex Maralit and former U.S. customs agent Wilfredo Maralit.  Both former law enforcement brothers have now pleaded guilty to violations of the Arms Export Control Act in connection with a little business they ran with brother Ariel in the Philippines.   Seems Ariel would take orders from customers in the Philippines for AR-15s, semi-automatic weapons and assault rifles and would then send these orders on to brothers Rex and Wilfredo in the United States.  The brothers would use their law enforcement discounts to buy the weapons cheaply and then pack them up and ship them to Ariel for a tidy profit.  Rex is quoted as saying he just thought he was "avoiding red tape."   Wilfredo's lawyer said he was just in it for the money.
And now for the best part.  Rex and Wilfredo
were told they would receive a lighter sentence if they could convince their brother Ariel to come to the United States and face charges, but the brothers were unsuccessful.
Allegedly Ariel replied to his brothers' pleas to give himself up by sending them a recording of "Baretta's Theme."  You remember: "Don't do the crime if you can't do the time." Okay, I made up this last part about sending the song, but once you start linking to the Daily Mail, it's hard not to follow their example.