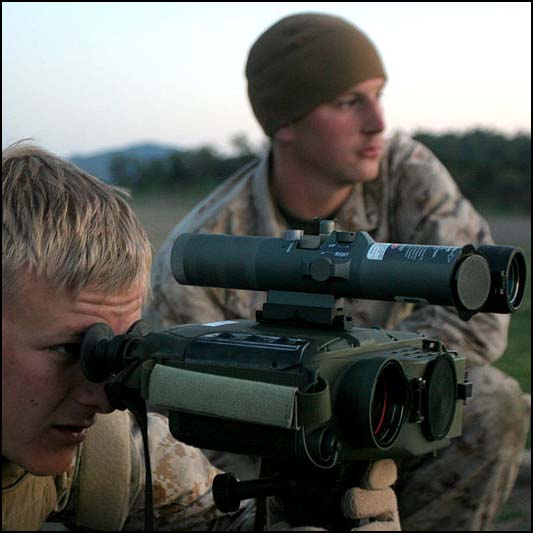 Last week, a federal judge in Wyoming set trial for February of next year for Russian Roman Kvinikadze, who was arrested this August on charges that he attempted to export thermal imaging weapon sights without a required license from the U.S. State Department.
The story of Kvinikadze's arrest began last year when he contacted an undercover Department of Homeland Security agent on the Chinese e-commerce site, Alibaba.com.  It is unclear from court documents what the DHS agent posted on Alibaba.com to attract Kvinikadze, but it was enough for Kvinikadze to introduce himself as an aspiring hunting store owner that wanted a quote for weapon sights.  According to the criminal complaint, Kvinikadze eventually traveled to a Las Vegas gun show where the DHS agent told him that the sights required a U.S. export license but "there were other ways to ship the weapon sights without a license."  Kvinikadze apparently expressed continued interest and later went to meet the agent in Wyoming, where he was arrested.
According to Russian media on Friday, the Russian Foreign Ministry's human rights commissioner described Kvinikadze's arrest as a "kind of American law enforcement agency approach to Russian citizens [that] is becoming increasingly disrespectful of international law and bilateral agreements, including the 1999 agreement on mutual legal assistance in investigating crimes."  He also reportedly described Kvinikadze as "being knowingly provoked to violate the law as he was lured into the United States [to be arrested]."
The Russian government appears to be intimating Kvinikadze's entrapment defense at trial.  Although a successful entrapment defense is difficult and complex, Kvinikadze appears to have a better chance than previous foreign nationals engaging with undercover U.S. agents online.  In September, we discussed the arrest of Patrick Campbell, the foreign national arrested at JFK airport for, among other things, having yellowcake uranium in his luggage.  In that case, again beginning on Alibaba.com, Campbell responded to a DHS agent's solicitation for yellowcake and informed the agent that he could "handle" any U.S. export restrictions that concerned the agent in shipping uranium to Iran.
In Kvinikadze's case, critical facts are the reverse: Kvinikadze found the DHS agent purporting to be a seller and the DHS agent was the one who informed Kvinikadze of  a required U.S. export license and "ways" to avoid getting one.  The criminal complaint is, however, peppered with suggestions that Kvinikadze was a sophisticated buyer and was not lured, but rather conspired, to export the sights illegally.
What may be Kvinikadze's best defense is the Russian government's support.  The Russian human rights commissioner has reportedly also said that "[Kvinikadze's] situation is being closely followed by the Russian Foreign Ministry," and that after Kvinikadze's arrest, "our consular workers got in touch with him and with the prison authorities in Nebraska where he is being held … We will continue providing consular-legal assistance to our compatriot."
There are, of course, a host of reasons why U.S. law enforcement looks for foreign threats on foreign websites where activity threatening U.S. security interests is taking place.  However, how such operations are conducted as well as their frequency and targets have, as this case shows, diplomatic ramifications.
Based on the Russian government's response, one has to wonder how the United States would respond if the weapon sights were looking the other way.  How Russia's response to Kvinikadze affects U.S. law enforcement strategy remains to be seen.  In the meantime, if sites like Alibaba.com are open for undercover U.S. law enforcement, any U.S. business should be keenly aware that other countries are likely doing the same.