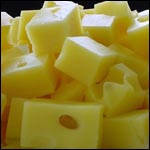 A reader sent me this press release from Immigration and Customs Enforcement:
One officer and a former officer with the Niagara Regional Police Service (NRP), and an associate are in custody in Canada Thursday following an investigation into a cheese smuggling scheme. …

The arrests were announced by James Spero, special agent in charge, U.S. Immigration and Customs Enforcement's (ICE) Homeland Security Investigations (HSI) Buffalo, the Canadian Border Services Agency (CBSA) and the NRP. …

Scott Heron, 39, Casey Langelaan, 48, and Bernie Pollino, 44, all of whom reside in Fort Erie, Ontario, have been charged for smuggling goods, evasion of duties and other related charges under Canadian laws. …

The network involved the purchasing of cases of cheese and other food items in the United States and transporting them into Canada without declaring the items or paying duty. Once the products arrived in the country, they were sorted and prepared for distribution to a variety of restaurants in southern Ontario.
Who knew that it was ICE's job to help Canada put U.S. cheese makers out of business with punitive tariffs on American cheese?