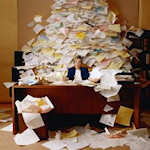 I've received some emails from irate subscribers demanding their money back (to steal a joke from Jim Bartlett) due to the paucity of postings lately. Kinder, gentler readers have expressed concern as to whether I have been kidnapped. To the first group, I say, your refund check is in the mail. To the second, I say, I have a brief due this upcoming Monday on an export issue before the U.S. Court of Appeals for the D.C. Circuit, and it's been taking up mountains of time. Posting should be back to normal next week.
In the meantime, for your enjoyment, I offer up two particularly amusing instances, sent to me by readers, of companies that have paid their registration fees to DDTC and are bound and determined to get extra mileage out of their fees with press releases providing novel theories about the benefits of manufacturer registration under Part 122 of the ITAR.
Contestant No. 1 goes for the gold by refusing to call it a registration — no, no, it's now a "certification." It demonstrates that DDTC has "certified" that the company "has the knowledge and understanding to fully comply with the Arms Export Control Act (AECA)." I'll bet you didn't know there was a test involved, did you? What, you didn't take one before you sent in your registration form? Uh oh. And for more fun, take a look at the definition of "U.S. person" at the bottom of Contestant No. 1's press release.
Contestant No. 2 is a company that I at first thought, incorrectly, was the company that froze Ted Williams for future reanimation in 2094. (Even that wouldn't help the Red Sox at this point.) This company takes a standard approach and merely talks about how it has received registration. Perhaps this company didn't want such a splashy press release because it looks like it has been providing "specialty cryogenic processing services for sensitive components used in military, aerospace and defense applications" for some time but only became registered just last month. I suppose they are trying to minimize the risk of a directed disclosure.

Permalink
Copyright © 2009 Clif Burns. All Rights Reserved.
(No republication, syndication or use permitted without my consent.)