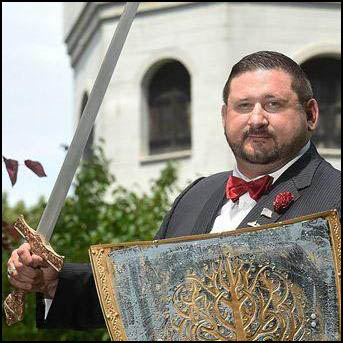 The Bureau of Industry and Security ("BIS"), apparently concerned that its website is not quite entertaining enough, has rolled out a new feature, which we can call "When Lawyers Go Bad." The purpose of this new feature is, apparently, to highlight criminal activity by lawyers even if that criminal activity is wholly unrelated to export violations of any kind and wholly outside of BIS's jurisdiction.
To roll out this new feature, BIS brings us, from the front page banner of its site, the case of Staten Island lawyer Richard Luthmann.   Mr. Luthmann is pictured at left with a sword and a shield,  He used this relatively bizarre image to illustrate a Tweet where he exhorts potential clients: "Don't be a #WIMP! Hire a #LawWarrior that will #Vanquish your legal woes." Sadly, Mr. Luthmann has had to hire his own "LawWarrior" to vanquish his own legal woes as he was indicted in December for, among other things, wire fraud, kidnapping, identity theft, access device fraud, and money laundering (but not, oddly, export violations).
The indictment alleges that Luthmann and a client cooked up a scheme where they would sell scrap metal to various customers but pack the shipments with a little bit of scrap metal and a bunch of worthless filler. If customers complained, they would say the shipment was full of scrap metal when it left the warehouse and that some nefarious type had obviously tampered with the shipment. If that didn't work, they planned on using the supposed organized crime connections of another one of the co-conspirators to intimidate the disgruntled customers to shut up. (You know, with horse heads in beds, threats of sleeping with the fishes and all that).
The company engaged in this sales was set up by Luthmann. He then installed another client of his, who was blind and on disability, as the alleged president of the company. When the blind guy worried he'd get in trouble, Luthmann, according to the indictment, assured him that the government would never find out. Famous last words.
Oh, and there's more. Luthmann allegedly demanded legal fees from one of his co-conspirators in the short-fill scheme in connection with un-invoiced legal services he was allegedly providing the client. The "client" borrowed the sums to pay these fees from another of the co-conspirators who later kidnapped the "client" and threatened him with a weapon to have the loan repaid. Fun times.
As I explained above, I can't for the life of me see what this case, however entertaining, has to do with anything within the jurisdiction of BIS. The word "export" does not appear even once in the indictment. But, as this blog has a number of readers who are much smarter than I am, I propose a contest. I will award a prize of my choosing, worth at least $2.99, to the first person who can offer a credible explanation of why BIS has enough interest in this case to feature it on its website. This offer is void in any states where it might be illegal and in any states, including Alabama and Utah, where fun is prohibited.

Permalink
Copyright © 2018 Clif Burns. All Rights Reserved.
(No republication, syndication or use permitted without my consent.)