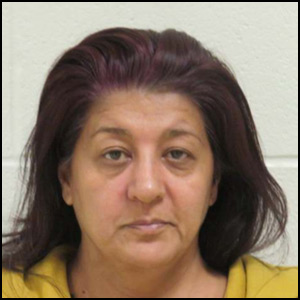 ABOVE: Parisa Mohamadi
A recently unsealed criminal complaint alleges that Parisa Mohamadi, an Iranian-born U.S. citizen, was responsible for exports of approximately $3 million of goods from the United States to Iran between 2010 and 2012. The fact pattern alleged in the indictment is a familiar one: the items, requested by Iranian buyers, were purchased by Mohamadi in the United States and shipped to a free zone company she incorporated in Dubai and then were transshipped to Iran from there.
Of course, there is no criminal violation without criminal intent. And in these transshipment fact patterns, where the shipment from the U.S. to Dubai would not require a license (if considered alone) and the shipment from Dubai to Iran was also one that was legal under UAE law, it is conceivable (indeed fairly likely) that the exporter may think that this shipment route is legal. (Remember we live in a country where 7 percent of the population believes that chocolate milk comes from brown cows.)
The criminal complaint understands this issue and tries to forward proof of Ms. Mohamadi's criminal intent.  Truth be told, the government's proof of criminal intent by Ms. Mohamadi can only be described as, well, completely whack-a-doodle.
The first "proof" cited by the complaint is this statement made by Mohamadi in an email:
I KNOW WHICH COUNTRIES ARE EMBARGO AND SANCTION AND WHICH COUNTRY WILL BE EMBARGO AND SANCTION, I AM AS SHIP OWNER, SO I KNOW HOW IS SHIPPING WORKS TO FIXED THE SHIPMENTS IN ADVANCE THUS DO NOT WORRY FOR THIS DELIVERY SCHEDULE, I NEVER SHOOT MY SELF.
The complaint adds a snarky footnote pointing out that the spelling mistakes and grammatical errors are those of Ms. Mohamadi alone and not an indication of any illiteracy on the part of the investigating DHS agent who signed the affidavit. This snark might have been justified but for the agent's reference elsewhere in the complaint to an "I-Phone" (for iPhone) and multiple references to "U.S. Principal Party of Interest" (instead of "U.S. Principal Party in Interest"). Of course, nothing in this difficult-to-parse statement is inconsistent with a belief that the shipment was legal if it went through Dubai first.  As Ms. Mohamadi tried to make clear, she never shoots herself.
But the agent saved the best "proof" for last (with my bold and italics added):
Similarly, on November 1, 2011, Individual D from Iranian Business A emailed MOHAMADI: "How are you. I am at the sanction solution and money transfer conference in the university. So far I we doing it like no one does, very happy to be here, of course I am the youngest here, and and we do it like no one. That's what separate us from the others." MOHAMADI responded: "Good to hear that we are the best but off course in knew that already." This was followed by three smiley faces.
The best I can tell the agent believes that the smiley faces are proof of criminal intent because nothing else in Mohamadi's quoted statement about "being the best" even comes close. You might recall that FBI agents get specific training in smiley faces and their meaning, so I suppose DHS agents get that training as well.
And that's it. That's what the criminal complaint cites to prove that the defendant knew that shipping items from the U.S through a foreign company in Dubai to Iran was illegal:  three smiley faces and a desire not to shoot herself.  Maybe that's why Ms. Mohamadi doesn't have much of a smiley face in her mug shot.

Permalink
Copyright © 2017 Clif Burns. All Rights Reserved.
(No republication, syndication or use permitted without my consent.)