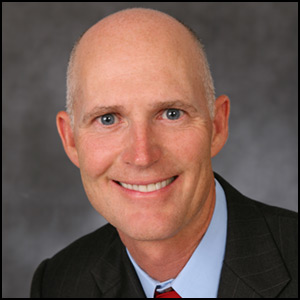 Last week, before other things got in the way, Florida governor Rick Scott looked in the mirror and suddenly realized that he had been elected by the American voters to run the foreign policy of the United States. So, without further delay, Scott announced that Florida would cut off all state funding for any port that permitted traffic to Cuba. As a result, the ports in Everglades and Palm Beach cancelled memoranda of understanding that they were planning to sign with Cuban officials visiting the state.
Now, of course, we all understand that Governor Scott's 8th grade civics class may not have covered some of the finer points of the U.S. Constitution, and we also understand that Cuba-bashing is a favorite sport for Florida politicians, but even a quick review of the Supreme's Court's decision in Crosby v. National Foreign Trade Council reveals the problems with the governor's actions here. In Crosby, Massachusetts prohibited state agencies from buying goods from companies that did business with Burma. The Supreme Court held that the law was preempted by the Supremacy Clause of the United States Constitution. In doing so, the Court noted that the Massachusetts law interfered with the ability of the federal government to conduct foreign policy with respect to Burma. Central to that holding was the court's finding that the Massachusetts law penalized companies for engaging in trade with Burma that was expressly permitted by the federal sanctions against Burma
Here, Governor Scott's threat extends to all trade with Cuba, even if that trade is permitted by a specific or general license. So, to take a timely example, it is legal, under section 515.591 of the Cuban Assets Control Regulations and License Exception SCP of the Export Administration Regulations to export goods and services to Cuba to assist with rebuilding infrastructure damaged by Hurricane Irma. Yet, under the threatened action, if that relief is shipped through a Florida port, that port will be penalized by Florida. This does seem, shall we say, pretty ungrateful under the circumstances: Irma's strength, and impact on Florida, was lessened by the time she spent wreaking havoc on the northern coast of Cuba. Florida ought to think of that before blocking aid to Cuba in rebuilding destroyed infrastructure.
Photo Credit: Rick Scott Head Shot by Rick Scott [CC-BY-SA-2.0 (http://creativecommons.org/licenses/by-sa/2.0)], via Flickr https://flic.kr/p/7Td7dc 2007 [cropped]. Copyright 2007 Rick Scott

Permalink
Copyright © 2017 Clif Burns. All Rights Reserved.
(No republication, syndication or use permitted without my consent.)