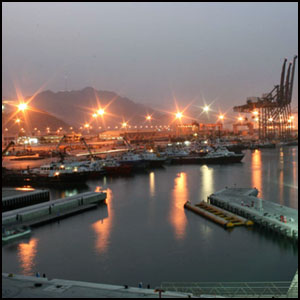 ABOVE:Port of Fujairah
As you probably know, various Arab countries, including Saudi Arabia, the U.A.E. and Egypt have imposed a boycott on Qatar, allegedly because of remarks that appeared on the Qatar News Agency's website where Qatar emir Sheikh Tamim bin Hamad Al Thani called Iran an "Islamic power" and, even worse, said Qatar has "good" relations with Israel. Qatar claims that the Sheikh never said this and that the QNA website was hacked. U.S. intelligence officials have said that this was likely the work of Vladimir Putin and his band of merry hackers, who were hoping to create a rift among the United States and its Arab allies — something the hack may well have accomplished.
What you may not know is that the Port of Fujairah, in the United Arab Emirates, has just banned from the port all maritime traffic coming from or headed to Qatar. Now, how many of you immediately thought of the Bureau of Industry and Security's Anti-Boycott rules when you (just) heard this? "Pshaw," you say, "those rules only apply to the Arab League Boycott of Israel." But in fact the Anti-Boycott Rules never even mention that boycott. By their terms, they apply to any "unsanctioned foreign boycott." Even though the rules go into excruciating details on all matter of things,  the term "unsanctioned foreign boycott" on which the whole byzantine edifice is constructed, is, oddly, never defined.  Even so, you can be pretty sure that the boycott against U.S. ally Qatar is one of those "unsanctioned foreign boycotts."
That being said, consider the following scenario. A customer in Fujairah, UAE, wants to buy from you $2 million worth of fidget spinners. The purchase order contains the following clause:
The shipping terms for the purchased goods are DDP Port of Fujairah (INCOTERMS 2010). The good may not be shipped on a Qatari-flagged vessel or on a vessel that visited, or is destined to visit, Qatar.
Can you accept the order?
The Anti-Boycott rules do provide some limited exceptions to permit compliance with shipping instructions of boycotting countries. Section 760.3(b)(1)(i) permits a U.S. person to comply with a prohibition of shipping the goods on a Qatari-flagged vessel. In addition, section 760.3(b)(2)(i) permits a U.S. person to agree not to ship the goods through Qatar. However, the exceptions only apply to requirements for "shipping goods to the boycotting country." Any restrictions on where the ship calls after that shipment is complete and the goods are delivered to Fujairah would be a violation of the rules.
So there's something else for you to worry about. You're welcome.

Permalink
Copyright © 2017 Clif Burns. All Rights Reserved.
(No republication, syndication or use permitted without my consent.)