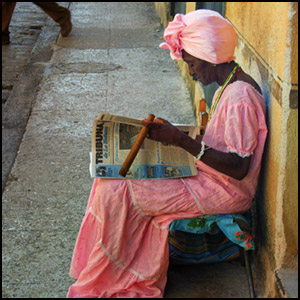 President Trump today announced new sanctions on Cuba, effectively rolling back many, if not most, of the changes made by the Obama administration to loosen the sanctions.  The most significant changes will make travel to Cuba by U.S. citizens to Cuba more difficult, if not virtually impossible.
The executive order signed by Trump has not yet been released, but FAQs on the new policy have been posted to OFAC's website. The biggest change will be with respect to individual people-to-people travel that was permitted starting March 15, 2016. Under the new rules, educational travel under the people-to-people exception will only be permitted if organized "under the auspices of an organization that is subject to U.S. jurisdiction that sponsors such exchanges." What organizations will meet this test is not clarified in the new FAQs.
OFAC says that the individual people-to-people license remains in effect until OFAC issues new regulations, but there is a wrinkle, actually more a tectonic fault than a wrinkle. If you  purchased a ticket or hotel room before today, you can rely on the old license even after the new rules are formally adopted by OFAC. The flip side of this, however, is that you make individual travel arrangements after today at your own risk.  This is because in that case if the new rules are adopted before you complete your travel to Cuba, you're out of luck and the individual general license no longer applies. In the worst case scenario, if the rules are changed while you're in Cuba and you have made your travel arrangements after today, you will be in violation of the new rules unless you can instantly teleport yourself off the island.
The other change that will significantly impact travel is the prohibition on all transactions by U.S. travelers in Cuba with "entities related to the Cuban military, intelligence, or security services." This is directed at Grupo de Administración Empresarial, S.A. ("GAESA") which controls a large portion, probably around 60 percent, of the Cuban economy and most of the tourist sector. Almost all of the shops, hotels and restaurants in Old Havana are run by GAESA, as are most of the hotels elsewhere in Cuba. U.S. tourists who buy a bottle of cold water from a supermarket run by GAESA anywhere on the island will risk getting in hot water with OFAC when they return home.
This obviously poses problems for every traveler in Cuba whether they are on a specific license or are traveling under any of the twelve general license categories. Certainly one cannot expect GAESA to warn U.S. tourists or to plaster its name over all of its properties, hotels, restaurants, gas stations, supermarkets and stores. Never fear, however — the FAQs say that when the new regulations are adopted the State Department will publish a list of GAESA entities. So, all tourists will have to do is carry the twenty-page list around with them and check the list before ordering a dacquiri, buying a cigar, checking into a hotel, or eating in a restaurant, or doing anything else on their travels. (That sounds like fun.)
You might think that private rentals, like those handled by AirBNB, will be spared the GAESA taint. But you would be wrong. VaCuba, which handles remittances for AirBNB, is owned by GAESA.
The good news is this: if you can somehow manage to get to Cuba under the new rules and find a legal place to stay, you can still buy cigars and bring them back with you. At least, if you haven't bought them from a store owned by GAESA.
Photo Credit: Women with Cigar by Daniele Febei [CC-BY-SA-2.0 (http://creativecommons.org/licenses/by-sa/2.0)], via Flickr https://flic.kr/p/7cPMmY [cropped and processed]. Copyright 2009 Daniele Febei

Permalink
Copyright © 2017 Clif Burns. All Rights Reserved.
(No republication, syndication or use permitted without my consent.)