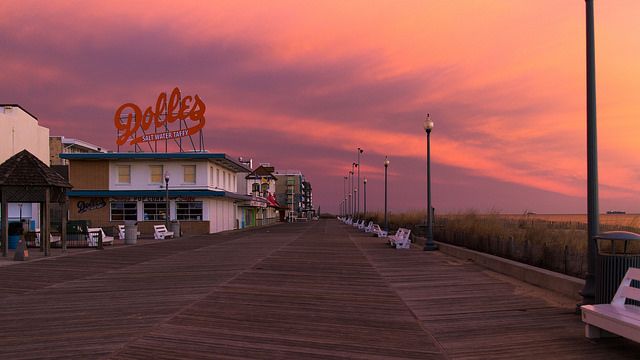 I love Delaware. I've spent many days on the Delaware beaches. Even so, recent legislation proposed in the Delaware House deserves ridicule and I'm willing to do that, even if that means I'm banned from ever having another slice of Grotto Pizza or bucket of Thrasher's Fries.
The bill in question, House Bill No. 57, prohibits the Delaware Secretary of State from registering LLCs where the members are subject to OFAC sanctions.  It also requires registered agents to screen members to avoid presenting applications with sanctioned members.
The bill is the brainchild of the Delaware Coalition for Open Government  ("DelCOG"), which after untold hours researching Delaware LLCs, has discovered two (yes, two) cases where Delaware has registered LLCs on the OFAC SDN List. The companies in question are 200G PSA Holdings, LLC and Agusta Grand I, LLC, which were designated as Specially Designated Narcotics Traffickers by OFAC on February 13, 2017. Both companies were registered in Delaware, respectively, on January 29, 2013, and October 28, 2014. Because the designation occurred after the companies were registered in Delaware, the proposed legislation would not have had any impact on the registration of these companies.
DelCOG and the bill's drafters seem to be unaware that SDNs will get registered in Delaware only when their designation occurs after registration. If it occurs before, the companies will be unable to pay their fees because banks will almost certainly block all payment of registration and agent fees. So the proposed legislation does not really accomplish its intended purpose at all.
What is does do is create is ample opportunity for confusion. Here's some language from the bill:
The Secretary of State shall neither certify for formation or domestication nor register as a limited liability company any citizen, group, organization, or government of a listed Sanctioned Nation in the Active Sanctions Program of, or any Specially Designated National listed as such by, the Office of Foreign Assets Control (OFAC) of the United States Department of the Treasury when federal law is violated thereby.
The phrases "listed Sanctioned Nation in the Active Sanctions Program" is not defined in the proposed bill. This is an apparent reference to this web page on the OFAC site which lists countries subject to comprehensive sanctions like Syria and Iran but also countries with regime-based sanctions, such as Iraq and Venezuela, where only designated individuals and entities are affected. This sets up the possibility that when anyone in Venezuela (who is not an SDN) is a member of an LLC seeking registration the Delaware Secretary of State will have to decide whether this violates federal law. The same will occur if the member is a U.S. permanent resident that is also an Iranian citizen. Neither of these instances would violate federal law, but who knows what the Secretary of State of Delaware will decide.
The proposed legislation also wanders into CFIUS territory with equally dubious results. The bill requires registered agents to determine if the purpose of the proposed LLC conflicts with the "prohibited or restricted investment … requirements" of Exon-Florio, 50 U.S.C. App. § 2170. In such cases, the registered agent cannot file the registration application on behalf of the LLC and must advise them to file a CFIUS notice. Apparently, the drafters of the bill are not aware that the CFIUS notice process is voluntary.
This bill amply demonstrates the problems that arise when states take it upon themselves to interpret and enforce federal law.
Photo Credit: Rehoboth Boardwalk by Clif Burns Copyright 2014 Clif Burns. All rights reserved.

Permalink
Copyright © 2017 Clif Burns. All Rights Reserved.
(No republication, syndication or use permitted without my consent.)