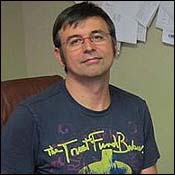 ABOVE: Alexander Fishenko
---
Almost a year ago, I commented on the fate of a lowly sales clerk, Anastasia Diatlova, in the prosecution of Alexander Fishenko, his company Arc Electronics, and employees of Arc for exports of various items to Russia without a license. Ms. Diatlova, the most junior sales clerk in the organization, had refused a plea of time served and gone to trial. This infuriated the prosecutors who took that offer off the table when a jury convicted Ms. Diatlova. Last month, however, Ms. Diatlova was granted a new trial on the export charges. The district court, in granting the new trial, held that there was insufficient evidence that Ms. Diatlova knew that it was illegal to ship the item in question.
The court described the evidence of criminal intent presented by the prosecution as follows:
(1) Diatlova received training on export controls and was aware that microelectronics, when mailed to Russia, are "generally subject to U.S. export control laws (emphasis added);" (2) the higher-ups at Arc (Fishenko, Posobilov and Abdullaev) "routinely lied and fabricated documents in order to evade export control restrictions"; (3) Diatlova filled out a "End-Use Certification/Statement of Assurance" indicating that the end user was Izhevsky Radio Plant, when the recipient was instead Atrilor, LTD, making her, at a minimum, guilty of aiding and abetting the illegal shipment of that part; and that proof exists that she was aware in April of 2012, upon arrest, that the part at issue was restricted.
The court held that allowing the jury verdict to stand "would constitute a 'manifest injustice' in light of the flimsiness of this evidence," noting quite reasonably that her knowledge about the export at the time of arrest had little bearing on her knowledge as of the time of the export. Nor could the illegal intent of other employees be attributed to her. The court did not even comment on the export control training, implicitly rejecting the notion that training alone can lay the groundwork for subsequent criminal prosecution. Finally, putting the wrong end-user on the end-use certificate was seen as the court as a sufficient predicate to let Ms. Diatlova's conviction for wire fraud stand but not as proof that she knew the export was illegal.
This highlights the difficulty confronted by prosecutors when they target people in the cubicles.  As we noted in our prior post on Ms. Diatlova, she had only an eighth-grade education and was being paid only $15 per hour.   Sadly, this appears to be another case of prosecutors who are more concerned about their conviction stats than anything else.

Permalink
Copyright © 2017 Clif Burns. All Rights Reserved.
(No republication, syndication or use permitted without my consent.)