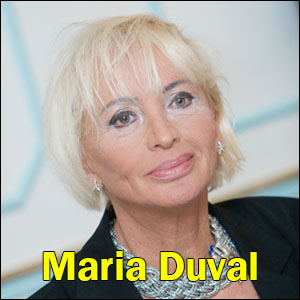 Last September, I wrote about the designation by the Office of Foreign Assets Control ("OFAC"), under the Transnational Criminal Organization (TCO) program, of Paul Davis, Pac-Net and related entities along with a number of officers, directors and employees of those companies.  Prior to these designations, only ten individuals and entities (comprising seven organizations) had ever been designated under the TCO program.  The original post focused on the nightmare that this would cause for the hundreds of thousands of people with the misfortune to be named Paul Davis.
But there was another fascinating aspect to this story.   The reason for the designations involved, at least in part, Pac-Net's processing of payments by U.S. citizens, principally uneducated, elderly or otherwise vulnerable, in the Maria Duval psychic scam. Although the $180 million dollars this scam obtained from its victims pales in comparison with Bernie Madoff's $20 billion Ponzi scheme, it still ranks as one history's biggest swindles.  Victims, found on so-called "sucker lists" compiled by other direct mailers who have sold over-priced junk to people, received letters signed by Maria Duval claiming that she had a personal vision involving the recipient and that she would be glad to share that — for a fee, of course.  The real Maria Duval, a small-time French psychic fraudster, claims that she sold her name some years ago to a mysterious Swiss consortium which was responsible for the larger scam. (Read the fascinating details here.)
Earlier this week OFAC de-listed Raffaella Ferrari, who was the director, administrator, or shareholder for several PacNet-linked companies in Italy and the United Kingdom.  Last month, OFAC removed  two other individuals associated with Pac-Net from the SDN List.  No reason is given for these removals, but the relative rapidity with which they occurred, at least when compared with the normally glacial speed required to be removed from the SDN List, suggests that these individuals were probably victims of a "block-first-ask-questions-later" approach used by OFAC for the original designations.  The large number of individuals designated  certainly suggested the possibility that OFAC targeted anyone that the agency could identify as having any connection to Pac-Net.
In connection with the designations, OFAC put on its website a frankly rather silly, and not very useful, organizational chart complete with pictures of some of the individuals involved with Pac-Net.  Interestingly, not one of the three now-unblocked individuals was important enough to appear in the chart's photographic rogues gallery.  This may explain the reason for their rapid unblocking better than anything else.

Permalink
Copyright © 2017 Clif Burns. All Rights Reserved.
(No republication, syndication or use permitted without my consent.)