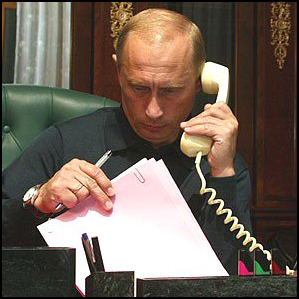 Way back in January of this year, I pointed out a problem that the Bureau of Industry and Security ("BIS") and the Office of Foreign Assets Control  ("OFAC") may have unwittingly created for U.S. manufacturers of encryption-enabled products, i.e., virtually anything that touches the Internet or a private network.  Both agencies had imposed sanctions on the FSB, the Kremlin spy agency formerly known as the KGB.  The problem with this otherwise laudable move is that the FSB regulates import of encryption products into Putinstan, er, Russia, and these restrictions could effectively prevent exports of U.S. encryption items into Russia.  This would happen because U.S. exporters were forbidden from filing the necessary paperwork with the FSB by virtue of its addition to OFAC's SDN List and BIS's Entity List.
Well, OFAC heard the howls of industry and in just after a little more than a week after the issue had come to light issued General License 1 to permit the filing with the FSB of the necessary paperwork for imports of these products.  BIS, however, slept through those howls and did nothing.   The original post on this problem had noted the difficulties posed by BIS having put FSB on the Entity List.   It was at least possible that the FSB notification and application forms could contain unpublished EAR99 technology regarding the device to be exported to Russia, in which case a BIS license would be necessary before the notification or application could be sent to the FSB.   That would be the case even after the OFAC General License authorized the notification and application forms to be sent
Rip van BIS-winkle has finally roused itself from its slumber on this issue.  On April 17, 2017, BIS amended the Entity List designation for FSB to remove the license requirement for transactions for "items subject to the EAR" that are "related to transactions that are authorized by the Department of the Treasury's Office of Foreign Assets Control pursuant to General License No. 1 of February 2, 2017." What do you want to bet that a number of FSB applications were filed with technology "subject to the EAR" without the required license before this amendment to the Entity List? Technology, even technology relating to an EAR99 item, is subject to the EAR unless it has already been published or has arisen during "fundamental research." Few people would think that unpublished information about a commercial EAR99 item would require a license. Most people probably felt that the OFAC General License got them to the finish line when dealing with the FSB. It now does, but it did not before April 17.

Permalink
Copyright © 2017 Clif Burns. All Rights Reserved.
(No republication, syndication or use permitted without my consent.)