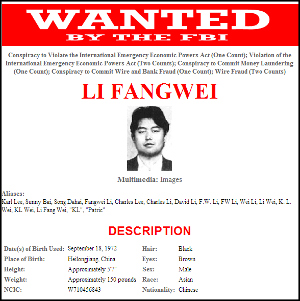 The U.S. Department of Justice announced yesterday that it charged Li Fangwei, a Chinese national, with violating U.S. sanctions against Iran as well as with federal fraud violations.  Li, also known by a panoply of aliases including Karl Lee, Sunny Bai and Patric, is accused by the Justice Department of using a number of Chinese companies he controls to sell "metallurgical goods" and other items to Iran that are prohibited from sale to Iran under U.S., UN and other sanctions around the world because of their potential use in nuclear weapons or ballistic missiles. Li himself was added to the SDN List in 2009 and his Chinese companies have been added to the SDN since 2006.  In fact, OFAC added eight Li companies to the SDN List yesterday.
With respect to U.S. sanctions, Li is alleged to have used front companies to engage in funds transfers through U.S. banks in order to conduct his business with Iran.  In a related matter, the Justice Department announced yesterday that the U.S. Government has already seized almost $7 million in funds attributable to Li's companies that were held in U.S. correspondent accounts of foreign banks used by the Chinese companies.
The seizures are, of course, a success for U.S. sanctions enforcement.  It raises, however, the question of whether a criminal prosecution of Li is fruitful or may be even necessary in an effort to curtail his dealings with Iran.  In announcing the indictment, Assistant Attorney General John Carlin described the criminal prosecution as "part of the 'all tools' approach our government is taking against Li Fangwei."  Indeed, other tools like those used by OFAC, in cooperation with the FBI and the Marshals Service, have so far seized millions attributable to Li front companies on the SDN List.  If OFAC can designate entities to the SDN List and funds in the United States attributable to them can be seized, what more can U.S. sanctions be expected to accomplish under the circumstances.
On that score, Li was part of a post here over five years ago when Robert Morgenthau, as then New York County District Attorney, announced a 118-count indictment against Li and one of his companies, LIMMT, alleging Li and LIMMT falsified business records in violation of New York law in transferring funds through New York banks in connection with transactions with Iran.  Back then, we questioned the legitimacy and efficacy of New York trying, in effect, to enforce U.S. sanctions and wondered whether OFAC wanted any assistance (or ultimately the distraction) from New York in its attempt to enforce U.S. sanctions policy.
History has a funny way of repeating itself.   Although the Justice Department actually has the authority to prosecute a U.S. sanctions violation, the same question of efficacy lingers.  Under a fair assumption that Li is in China now and the Chinese government knows Li's exact whereabouts, there is almost no reason to think China will extradite him or even possibly curtail his activities with Iran.  Perhaps the Department is hoping that the $5 million bounty the FBI placed on Li's head might prompt someone in China to nab Li, tie him up, put a bag over his head, put him in a container and ship him to the U.S. in order to claim the reward.
The case of Li Fangwei, therefore, should not be sidetracked to the U.S. justice system.  This is in OFAC's bailiwick and OFAC should lead the charge, in cooperation with other U.S. agencies, to seize blocked property in the United States and liaise with Canadian, EU, Swiss and other foreign sanctions enforcement authorities to convince them that similar seizures should take place around the world and intelligence should be shared with each other on what new companies Li, and possibly others, are using to do impermissible business with Iran.
In the words of the Justice Department, Li Fangwei is a "fugitive."  That could not be more of a misnomer.  The case of Li Fangwei simply does not fit the parlance used by U.S. prosecutors.  The Justice Department is right, however, that the United States is afforded a lot of tools in sanctions enforcement.  Sometimes, there are tools best left in the toolbox.

Permalink
Copyright © 2014 Clif Burns. All Rights Reserved.
(No republication, syndication or use permitted without my consent.)