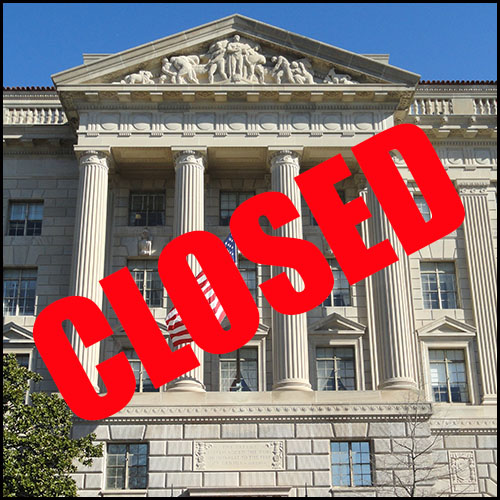 So, you may be wondering which export agencies are up and which are down now that the Federal Government is shutdown. The answer isn't altogether clear at this point (still!) but here is what appears to be the current rundown of things.
Treasury. The license application page is down with a note saying that licenses won't even be accepted during the shutdown. If you need to file a TSRA or other license, you're just going to have to wait until the government is open even to file the license.
State. Normal operations at least through Friday, October 4. After that, licenses will be accepted and acted on only in emergency situations.
Commerce. Crickets, as they say. Nothing but the sound of crickets from that corner. The BIS website makes no mention of the shutdown which means either it's business at usual over at BIS (not very likely) or that they are so shut down they can't even post something on the front page of their website.
USITC. Looking for the correct HTUS code to put on an AES form? Too bad. The online version of the Harmonized Tariff is down for the duration. Now aren't you sorry you didn't print out all 3,456,732.12 pages of it?
Radio Marti. Well, you can't get a license to send food to Cuba during the shutdown, but the federal government has decided that propaganda is an essential service, and Radio Marti broadcasts to Cuba will continue unabated, shutdown or not. Apparently, the Cubans need to hear about our shutdown which proves that we're a free country or something like that. Of course, Cuba's jamming operations are also unaffected by the shutdown, so mostly the broadcasts to Cuba will be about as effective as they always have been.

Permalink