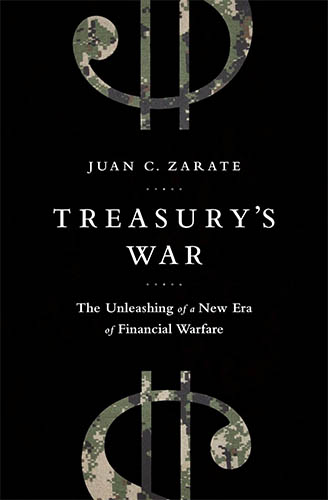 Juan Zarate's new book on OFAC, Treasury's War, is a crashing bore and I have to admit that about half way into it I gave up. Zarate had taken my money to buy the book; I wasn't going to let him take any more of my time as well.
I wanted to like Zarate's book. Zarate was Assistant Secretary of the Treasury for Terrorist Financing and Financial Crimes during the Bush Administration, and I hoped that his book would provide interesting details on OFAC's enforcement activities during his tenure. Instead, the book is mostly a lengthy self-encomium where Zarate depicts himself as a modern-day Elliot Ness who risked life and limb as one of Treasury's "guerillas in gray suits." Yes, he actually used that phrase. He also breathlessly relates a corkscrew landing he made (or more accurately the pilot made) during a trip to Afghanistan.
Most of the problem with the book is its deadly repetitiveness. The book might be a useful drinking game if you had to drink a shot every time Zarate says that terrorists need money, mentions Elliot Ness or describes the conference room where a meeting took place (Civil war currency on the wall! Historical artifacts such as silverware!  Mahogany conference tables! Views of the South Lawn!). I really began to suspect that Zarate was being paid by the word. We hear that one of his colleagues "looked like he belonged on the cover of GQ magazine."
Not surprisingly, the book is also a completely uncritical look at OFAC's activities after September 11. Zarate defends the controversial "80/20″ rule for blocking assets when the agency only had 80 percent of the evidence needed to decide whether assets should be blocked. He complains about the reorganization that created the DHS and how it took away Treasury's "guns and badges." (The ghost of Elliot Ness appears again.) He also paints Richard Newcomb as a chief player in the war against terror notwithstanding that the former director of OFAC resigned on heels of criticism after OFAC told Congress in 2003 that OFAC "had just four full-time employees dedicated to investigating Osama bin Laden's and Saddam Hussein's wealth while nearly two dozen were working on Cuban embargo violations."
There is only one interesting tidbit that I found before I gave up on the book, and it doesn't reflect well on Zarate. During his discussion of efforts of OFAC to slurp up SWIFT data, Zarate reveals that in order to protect the sensitivity of this effort, they used the code name TURTLE for SWIFT. Who would have imagined that a reference to some financial resource named Turtle might in fact be a reference to SWIFT? No one. Not in a million years.

Permalink