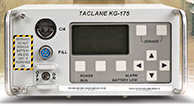 Chi Tong Kuok, a citizen of the PRC, was indicted earlier this week for violations of the Arms Export Control Act in connection with an attempted export of a General Dynamics KG-175 Taclane Encryptor to Kuok at his address in Macau. Kuok became the subject of an undercover investigation in 2006 after he sought to buy from a defense industry employee a device used for encrypted satellite communications between military aircraft and satellites. That defense industry contact referred Kuok to an undercover agent, who ultimately negotiated with Kuok to sell him the KG-175 Taclane Encryptor for export.
There doesn't seem to be much question that the Taclane Encryptor is in Category XIII(b)(3) of the United States Munitions List. Although the General Dynamics web page describing the product doesn't explicitly state that the item is USML, it is clear that the item was designed for, and primarily used for, military applications. Kuok also seemed to be quite aware that the export of the device was illegal. In the affidavit filed in support of the criminal complaint, Kuok allegedly expressed concern that the undercover agent was FBI and allegedly indicated he preferred to pay by Western Union rather than through PayPal because the U.S. government monitored PayPal transactions.
Several interesting background details to the indictment are provided in this article in Wired. First, since Kuok was operating out of Macau, the federal agents running the investigation had to lure him back into the United States. The undercover agreed to deliver the encryption device in Panama. Kuok flew to Panama . . . through Atlanta. Oops. Kuok was arrested in Atlanta and is now being held without bail.
Second, Kuok told federal investigators after his arrest that he was acting on behalf of the government of the PRC. According to Kuok, the PRC government was seeking the encryption device, and other similar devices he had obtained or tried to obtain, to eavesdrop on U.S. military and government communications.
Third, after Kuok was arrested investigators were able to examine Kuok's eBay account. This examination allegedly revealed that Kuok had purchased export-controlled items over eBay for export to China starting in 2005.
Once again, eBay seems to be developing as a major source of leakage of sensitive export-controlled items. Sellers on eBay are not likely to be very sophisticated about the export-status of the items they are selling and are unlikely to be concerned about much more than guaranteeing that they are paid for items before they ship them. And the Chinese government seems well aware of vulnerabiity and is all too willing to exploit it. At some point eBay and Craig's List will be forced to address this issue on their own or risk possible government intervention to correct the problem.

Permalink
Copyright © 2009 Clif Burns. All Rights Reserved.
(No republication, syndication or use permitted without my consent.)