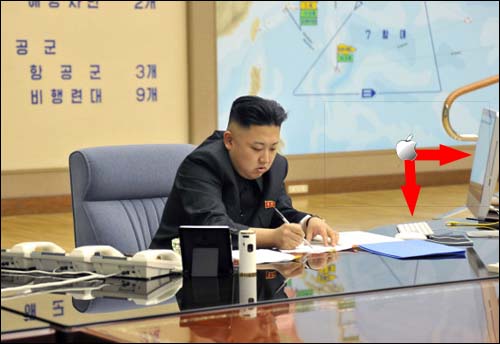 Well, well, well.   It seems that North Korea's well-fed Dear Leader is planning his attack on the United States mainland using a 21.5 inch aluminum unibody iMac.  Or perhaps he just uses it to play Call of Duty Mac Edition in between snacks and drawing pictures.  It's hard to tell.
But, you may ask, what's he doing with an iMac?  Don't we have laws against that? Yes, we do. Currently, exports to North Korea of all items other than food and medicine classified as EAR99 require a license from the Bureau of Industry and Security ("BIS"). An iMac is classified as ECCN 5A992. Under EAR § 742.19(b)(vii), licenses to export 5A992 items to North Korea are subject to a general policy of denial, so I think we can reasonably assume that no license was issued by BIS to export the iMac to our Dear Leader.
So where did he get it? Um, where do you think? China, probably..

Permalink