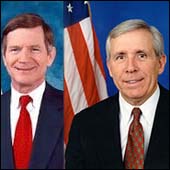 Last week, Aviation Week repeated claims by House members Frank Wolf and Lamar Smith that employees of NASA's Ames Research Center were being investigated for unauthorized release of ITAR-controlled technical data. Specifically, the two members claimed that the NASA employees released information about a space propulsion system at a conference at which Chinese nationals and foreign officials were present. But the kicker, according to Wolf and Smith, was this:
We were very concerned to learn earlier this week that despite the U.S. Attorney's request for permission from the Justice Department to proceed with indictments, this request was recently denied without explanation, despite the backing of both the FBI and the U.S. Attorney's office. We are deeply concerned that political pressure may be a factor and are formally requesting an investigation into the circumstances of the Justice Department's actions with regard to this case.
But, according to a report in yesterday's Mountain View Voice, the prosecutor allegedly making the request to indict said that the two Congressman were wrong.
On Feb. 12 a statement from Melinda Haag, the U.S. attorney for the Northern District of California, contradicted Wolf. She denied that her office had sought an indictment.

"I am aware of allegations our office sought authority from [the Justice Department in Washington, D.C., to bring charges in a particular matter and that our request was denied," Ms. Haag said, according to the Washington Times. "Those allegations are untrue. No such request was made, and no such denial was received."
Of course, I'm shocked, shocked to hear that Congressmen might get export matters wrong.

Permalink
Copyright © 2013 Clif Burns. All Rights Reserved.
(No republication, syndication or use permitted without my consent.)