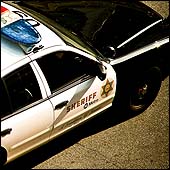 According to this investigative report that appeared in the Los Angeles Times over the weekend, the Los Angeles County Sheriff's Department apparently committed criminal export violations over 10 years ago when it shipped body armor without a license to Cambodia. Surprisingly (or maybe not), federal investigators gave the department and the individuals involved a pass.
What makes the case particularly interesting are the steps that the Sheriff's Department took to conceal the export. The bulletproof vests were, at least on paper, allegedly sold to the City of Gardena, California. However, Gardena never received the vests. Instead, they were retrieved by someone in the Sheriff's Department who, even though not an employee of the City of Gardena, signed on behalf of the city. The vests were then hidden inside patrol cars that were being shipped to Cambodia. The bulletproof vests were neither licensed or declared in export documents.
Federal investigators decided not to press charges on the ground that there was no evidence that anyone involved in the transactions were aware of the relevant export laws.  Of course, that's not the standard. The scienter requirement is that the accused knew that the exports were against the law, not that they were aware of the particular export laws in question. Call me cynical, but if someone not in law enforcement went to these extremes to disguise what they were doing, that person would be indicted faster than you can say "ham sandwich."

Permalink
Copyright © 2013 Clif Burns. All Rights Reserved.
(No republication, syndication or use permitted without my consent.)