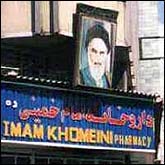 ABOVE: Pharmacy in Iran
---
A report just released by the Woodrow Wilson Center faults U.S. sanctions for critical shortages in medicines in Iran. Although there is, in theory, an exemption in the sanctions which permits the licensed sale of medicines to Iran, other provisions of the sanctions — particularly those targeting Iranian finacial institutions — have, as a practical matter, cut off the exports of medicines from the United States to Iran. As the report notes:
Presently, despite provisions of limited exemptions in American and European sanctions that are meant to facilitate humanitarian trade with Iran, the intertwined structure of the sanctions regime makes it nearly impossible to do so. As an American industry lobby group USA Engage explained in a letter to President Barack Obama in September 2012, "What is ostensibly permitted by license under one rubric is in fact ruled out by express prohibition under another." Blacklisting Iran's main banking infrastructure and cutting the Islamic Republic from the Society for Worldwide Interbank Financial Telecommunication (SWIFT) created obstacles for international trade; trade in humanitarian goods, including medicine, is no exception. By removing the larger Iranian banks—especially Bank Tejarat, which is the country's main trade bank—from the system, the banking circuit was cut between the Iranian importer of legal humanitarian goods and the seller.
In addition the report notes that draconian enforcement actions and gargantuan penalties from OFAC have discouraged many financial institutions from having anything to do with even legitimate and licensed pharmaceutical sales.
The recent experience of a reputable Iranian pharmaceutical group shows the magnitude of the problem. When a senior company representative flew to Paris to present a French bank with documentation showing that the trade was fully legal, he was told: "Even if you bring a letter from the French president himself saying it is OK to do so, we will not risk this."
Further complicating matters, the U.S. sanctions have caused supplies of hard dollar currencies to dry up, leaving Iranian pharmaceutical distributors with no money to pay for even licensed transactions.
The author of the report proposes the simple and obvious solution: an exception to the financial institution sanctions for licensed sales of medicines needs to be put in place. Additionally, the author notes that even with that change, a good deal of diplomacy will be required with foreign banks to assure them that the United States will not seek to impose crippling sanctions on them if they become involved in financing exports of medicines from the United States to Iran.

Permalink
Copyright © 2013 Clif Burns. All Rights Reserved.
(No republication, syndication or use permitted without my consent.)