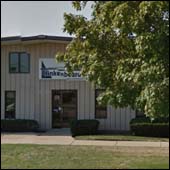 Well, today is truly a red letter day in the annals of ITAR registration puffery. For the first time ever (at least that I've seen), we have a company boasting that it has received ITAR re-certification. This blog has reported plenty of instances of companies that breathlessly announce that they have received "certification" upon their first ITAR registration filing, but until now no company has tried to make a news event from filing their renewal of that registration.
The proud company is Illinois-based Clickenbeard & Associates, Inc., and their press release really slathers it on thickly:
Clinkenbeard … has received official International Traffic in Arms Regulations (ITAR) re-certification from the United States Department of State, Bureau of Political-Military Affairs.

… Companies receiving this certification demonstrate that they have knowledge and understanding to fully comply with the AECA and ITAR as well as having corporate procedures and controls in place to ensure compliance.

"This re-certification is evidence of our commitment and ability to safeguard all defense- and government-related data for our customers and our country. Further, it demonstrates our government's trust in our doing so," explains Steve Helfer, Clinkenbeard general manager.
I particularly like the statement that registration renewal demonstrates the "government's trust" in Clickenbeard. To repeat (for the, oh, four thousandth time), all that ITAR registration (or re-registration for that matter) demonstrates is that the company had the filing fee in its bank account, could figure out how to fill out a form and send it to DDTC, and was able to pay for the postage required to send it in. Registration numbers are given by DDTC to everyone who can do those three things, even if they don't know the difference between "registration" and "certification,"  between an export and a deemed export or between a DSP-83 and a salt shaker.

Permalink
Copyright © 2013 Clif Burns. All Rights Reserved.
(No republication, syndication or use permitted without my consent.)