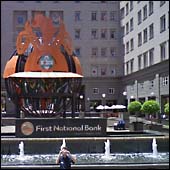 First National Bank, one of the oldest banks in South Africa, has announced that it will close all accounts held by any person or entity listed on the Specially Designated Nationals and Blocked Persons list of the U.S. Office of Foreign Assets Control ("OFAC"). No U.S. person may engage in any transaction with a person or entity on that list, commonly referred to as the SDN list, without a license from OFAC, and any property of any person or entity on that list that comes into the possession of a U.S. person must be blocked.
Needless to say, First National Bank is not a U.S. person and is not, strictly speaking, subject to OFAC's rules with respect to persons and entities on the SDN list. Nevertheless, it said yesterday that it would close all accounts held by anyone on the SDN list. The announcement followed the bank's decision to close the account of the Al Aqsa Foundation of South Africa, which is, indeed, on OFAC's SDN list. In explaining its decision, the a spokesperson for the Bank stated:
It has come to the bank's attention that the foundation is expressly listed by the US Department of Treasury' [OFAC] and other international sanctions lists. The listing of the foundation has been verified with reference' inter alia' to the addresses contained in the listings documents.

The international financial community impose stringent obligations in respect of the maintenance of banking relationships with entities listed by OFAC' and the decision by FNB to terminate its relationship with the foundation is a consequence of this fact alone.
What this probably means, in more direct terms, is that the bank feared that there was some risk that transactions it might engage in on behalf of Al Aqsa as a customer might come into the possession of a U.S. bank which would then block the funds. And even though the bank shouldn't be liable to reimburse Al Aqsa for the lost funds, the whole affair would be a giant headache for the bank. In response, Al Aqsa accused the bank of killing orphans, saying:
This will force a reputable' decade-old organisation that supports 1500 orphans every month to shut its doors' thus terminating the only lifeline these children have.
OFAC, when it designated Al Aqsa, said that the group used its humanitarian activities as a disguise for its role as "financier of terror."

Permalink