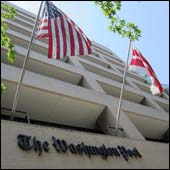 Buried among all the articles on the recent events on the Hill, the Washington Post snuck in an article on the White House's export control reform initiative and on export controls in general. Unfortunately, but not surprisingly, the reporter gets tangled up in the complexities of the current export control regime and muffs a few things.
The worst of these errors was the simplest one to avoid. As regular readers of this blog know, we have spilled several million gallons of digital ink (or should I say illuminated millions of computer screen pixels?) decrying and ridiculing the concept that the required registration under the International Traffic in Arms Regulations ("ITAR") for manufacturers of defense articles represents some kind of "certification" of the manufacturer.   Instead, registration signifies nothing more than that the manufacturer filled out a  brief form disclosing certain corporate information and paid the required fee. It is not, by any stretch, an "ITAR certification."
But now this "certification" canard has wriggled its way into the august pages of Washington's paper of record:
Building the boards in the United States costs Kincaid "100 to 400 percent" more, he says, but he did not hesitate to fill out the paperwork five years ago and pay the fee, which is now more than $2,000, to become an ITAR-certified manufacturer because he appreciated the made-in-the-United-States sentiment and thought that it might "bring some of the work back."
Sigh.
And then there's this:
So a defense contractor sending equipment for U.S. military use on a battle­field abroad must obtain its authorization to "export" its product to a foreign country.
No. If the manufacturer sells the equipment to the U.S. military and they take it abroad, the manufacturer doesn't need a license.
And this:
As Abrams sees it, the trouble for businesses like Kincaid's isn't compliance with export controls but the uneven application of the controls. For instance, her organization has seen identical bid requests "with one stamped ITAR and one not stamped ITAR," she says. So if one company complies and the other does not, then the noncompliant manufacturer seizes a significant competitive advantage, assuming no one comes calling from the departments of State, Commerce or Treasury — three agencies with different computer systems, missions and cultures, but all with responsibilities in export controls.
Again, no. Neither Commerce nor Treasury would have any responsibilities or jurisdiction over the unauthorized export of ITAR-controlled items.
I spent some time speaking with the reporter on this story and, apparently, did not do a good enough job communicating to him some export control basics, so I take part of the blame for these last two errors. But, I made a big deal with him about "certification" versus "registration," so there was no excuse for that mistake.

Permalink
Copyright © 2013 Clif Burns. All Rights Reserved.
(No republication, syndication or use permitted without my consent.)