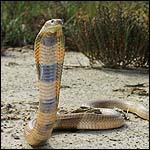 Like Indiana Jones, I hate snakes, and so doing this post (and especially the picture at the right) was a bit unsettling, but the story was just too good to pass up. According to an article in today's Wall Street Journal (subscription required), the Pentagon is buying snake bite drugs from Iran. Apparently Afghanistan is crawling with venomous snakes (like the Oxus cobra pictured on the right), and Iran's Razi Vaccine & Serum Research Institute is one of the few manufacturers and purveyors of the anti-venin needed to combat snake bites in Afghanistan. Indeed, DoD medical guidance explicitly states that the Razi vaccines "should be the first line of antivenin therapy."
My, oh my, what a mess. After being contacted by the Wall Street Journal reporters in connection with the story, Pentagon lawyers are apparently trying to figure out whether these purchases violate U.S. sanctions against Iran. (Some free advice for those lawyers: the answer is yes.) And OFAC says it's working with DoD to "confirm the details of these purchases to ensure compliance" with the U.S. embargo on Iran.
Don't expect to see DoD paying a fine to OFAC (although the schadenfreude of such an outcome is hard to deny). Individual government employees involved in the anti-venin deals might be slightly more nervous, although one could imagine the intensity of the backlash against OFAC for even issuing a warning letter to military personnel who were, after all, just trying to save our troops, even if they were violating federal law and endangering national security in the process. (The money paid to Razi — $35,650 according to the WSJ — was almost certainly the last $30,000 standing between Iran and the bomb.)
The best part of the story is the reaction of Hadi Zareh, lead researcher in Razi's antivenin department. He said:
We make this to save lives, and it doesn't matter if the person is Iranian or Afghan or American. We are happy to hear we have saved a person's life, even an American soldier.
He went on to say, however, that U.S. sanctions were making it more difficult for Iran to produce the drug saving American lives in Afghanistan, noting that the sanctions were making it "very difficult to buy chemical products for the laboratories and some of the equipment that we need."
It's funny how the Iran sanctions might be an economic version of "friendly fire."

Permalink
Copyright © 2012 Clif Burns. All Rights Reserved.
(No republication, syndication or use permitted without my consent.)